Testingfg of Ads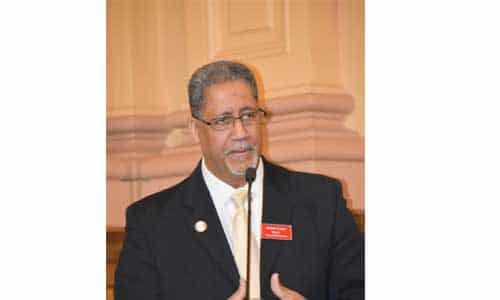 Stonecrest Mayor Jason Lary spoke to legislators and the public at the Georgia Capitol on Feb. 27 in support of legislation to expand opportunities for minority-owned businesses and level the playing field with state contractors.
Under the House Bill 90, minority-owned business would receive a fair share of the $26 billion awarded to state contractors, according to State Rep. Winfred Dukes, one of the bill's sponsors. State Rep. Billy Mitchell, who represents District 88 which includes Stone Mountain, along with four others co-sponsored the bill.
If passed, the bill will provide for a feasibility study that would identify disparities in all state government departments.  HB 90 would create a Division of Supplier Diversity that would reinforce an ongoing process to ensure that state contracts are equitably distributed, according to Dukes.  The bill also clarifies and defines a minority business as those with at least 70 percent ownership by one or more minority groups.
Lary was one of several invited guest speakers to address lawmakers and the public in support of the bill. The mayor committed to continue hiring contractors for the city who are black or minority-owned.
"This bill will help black and other minority-owned businesses. I am committed to mirroring this bill in Stonecrest," the mayor said.  "We have several minority-owned businesses working with the city. For example, we are paving our streets soon and have identified a black-owned company to assist us with this endeavor.  We have found that the key element is to identify minority-owned businesses who aren't just relying on that designation but, who can also do the work," the mayor said.
HB 90 has support from the House of Representatives and the Senate.  If passed, the bill would become effective later this year.