Testingfg of Ads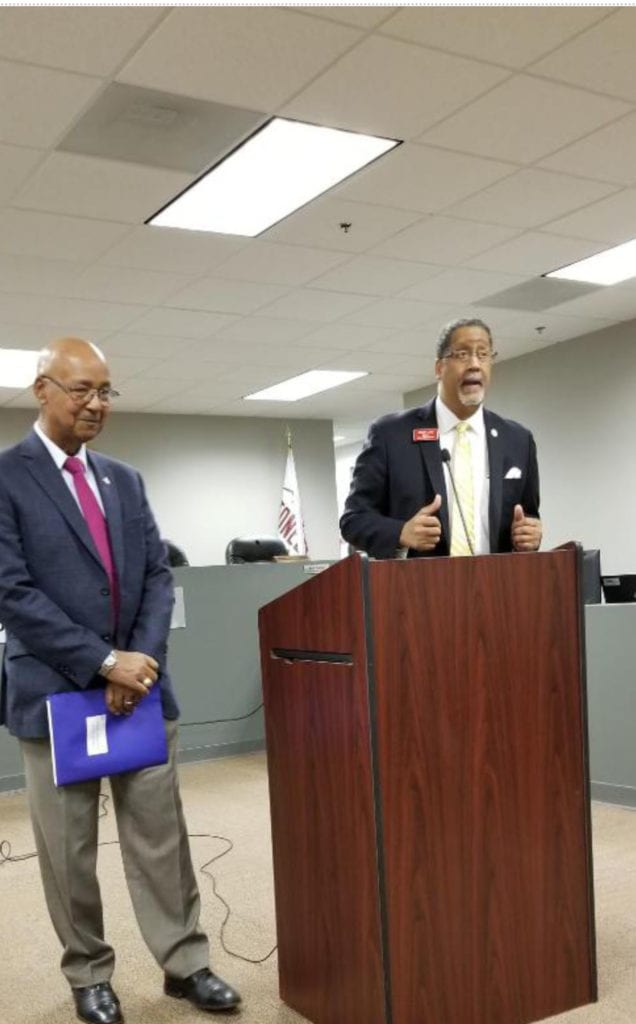 Stonecrest Mayor Jason Lary has stopped the construction of a gas station and convenience store planned at the corner of Evans Mill and Salem roads. Lary said the city is planning instead to buy the property and build a community park at the site, pending City Council approval.
Lary's promise follows protests by residents who have said at public meetings that they don't want a gas station and convenience store in the middle of a residential area, even though the property was zoned commercial years ago when the area was rural.
The mayor and Stonecrest City Councilman George Turner, who represents District 4, which includes the property, announced plans for the park at the mayor's "Straight Talk" town hall meeting, which was held at City Hall on March 18.
The crowd attending the meeting applauded after Lary unveiled plans for a park at the site.
"Solution: We're going to buy this corner. Period," said Lary, adding that the purchase would be a win for residents and the new city.
Councilmember George Turner expressed excitement over the planned acquisition.
"I'm just elated that we are going to acquire this property," Turner told the audience.
Lary said the City Council must approve moving forward with negotiations to buy the 8.8-acre tract. He said he and Turner have spoken with the property owner, who is willing to sell the property to the city. The city is looking at spending about $325,000 for the property, the appraisal value, Lary said.
"Municipal rules prohibit us from going above the appraised value," said Lary.
The mayor said funding from the city's SPLOST (special purpose local option sales tax) would be used to pay for the park and road improvements.
Lary said in addition to the park, the city would install a traffic light or round about at the corner.
Lary said he expects the item to be placed on the March 25 City Council agenda for a vote by the City Council.