Testingfg of Ads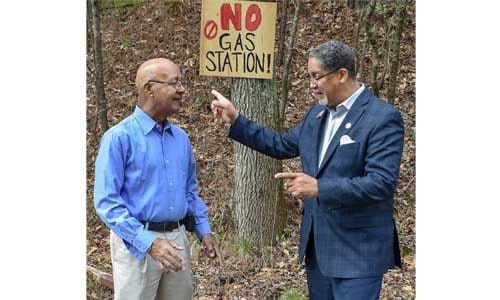 Mayor Jason Lary and Councilman George Turner are moving to halt the development of a proposed convenience store and gas station at 5987 Salem Road.  Mayor Lary vowed to team up with Turner and put a stop to development at the March 11 city council meeting.
Lary and Turner met with the city's land development inspector at the lot, located on the corner of Salem and Evans Mill roads and discovered discrepancies that require closer evaluation by city staff.
"The goal is to make it go away because of the desire of the people in the city.   We are listening to our constituents and doing the best we can while still abiding by the law," Lary said.
Turner said that he got his start in the community by fighting an unwanted development on the same property approximately 18 years.
"This lot needs to be developed but a gas station doesn't fit the development desires for the area," Turner said.  "We are not anti-development.  We are looking for a complementary development that fits the community and a convenience store and gas station is simply not a fit."
Lary said he plans to hold his "Straight Talk" meeting on Monday, March 18, to discuss a few available options for the corner lot.  The meeting will begin at 7 p.m. at Stonecrest City Hall, 3120 Stonecrest Blvd., Stonecrest.