Testingfg of Ads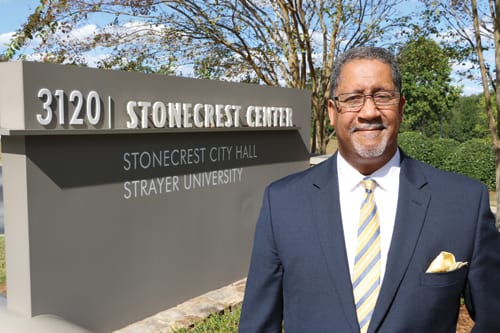 With the announcement that Atlanta has made Amazon's finalists' list for its second world headquarters known as HQ2, Stonecrest Mayor Jason Lary said he is ever optimistic about securing the bid.
Lary said Stonecrest is still in the running because the Georgia Economic Development's Office bid includes metro Atlanta and thus, Stonecrest.
Amazon officials have narrowed the list from 238 to 20 cities, news outlets reported on Jan. 18.
Lary said he is collaborating with Atlanta Mayor Keisha Lance Bottoms to win the Amazon bid for the metro area.
"I said we have more land and you have more rail," said Lary. "We are stronger together versus separate as both areas have unique assets."
Stonecrest made national news when it offered to de-annex 345 acres and create the city of Stonecrest, Georgia as a way to lure the retail giant's headquarters and 50,000 jobs to the area that will have average salaries of $100,000 a year.
Stonecrest launched a marketing campaign using geo-fencing through a Seattle-based firm to produce a web-based information video and site visit invitation directly to Amazon executives. Amazon's headquarters are located in Seattle.
"We're really excited that our efforts are paying off. Members of the Georgia Economic Development Office applauded our marketing and branding efforts and credited us for helping shine a positive light on this area," said Lary.
Stonecrest officials say the next step is for the finalists to prepare for site visits from Amazon executives.
The finalists are as follows: Atlanta, Georgia; Austin, Texas; Boston, Massachusetts; Chicago, Illinois; Columbus, Ohio; Dallas, Texas; Denver, Colorado; Indianapolis, Indiana; Los Angeles, California; Miami, Florida; Montgomery County, Maryland; Nashville, Tennessee; Newark, New Jersey
New York City, New York; Northern Virginia, Virginia; Philadelphia, Pennsylvania; Pittsburgh, Pennsylvania; Raleigh, North Carolina; Toronto, Ontario; Washington, D.C.