Testingfg of Ads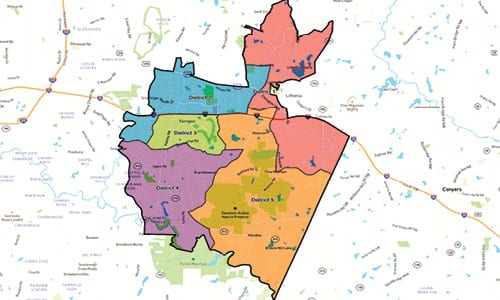 By Valerie J. Morgan
The city of Stonecrest is making progress in getting the U. S. Postal Service to officially recognize Stonecrest as a city, officials said.   
The Postal Service has notified the city that residents and businesses in the new municipality may receive information as early as this month about the address name change.    
Mayor Jason Lary says that's good news.    
"This is something that we have been waiting for and it officially will put Stonecrest on the map," said Lary. 
The city of Stonecrest, which is about 29 square miles, includes 52,393 residents within its boundaries in Southeast DeKalb County.   
Mayor Pro Tem George Turner, whom Lary appointed to oversee the name change on behalf of Stonecrest, said the city contacted the Postal Service on Feb. 2 and received a response dated Feb. 12, 2018. Atlanta District Manager Samuel Jaudon said in his reply to the city: "Please rest assured that we will make every effort to address this concern contained in the letter. The process is generally completed within 60 days after initiation, depending on the complexities of the request and the current workload."      
"We're hoping that the notifications will go out this month," said Turner. 
Once the Postal Service approves the name address change, city officials must notify residents and businesses that they may begin using Stonecrest as their address. They will be able to keep their same ZIP codes, Postal Service officials said.  
Lary said the city is working with Congressman Hank Johnson to eventually establish the city's own Post Office, but that venture expected to be a long process. 
"The process is arduous because you have to find a location, seek federal funding for it and meet certain criteria," said Lary. 
Want to know if you live in Stonecrest? 
Visit www.stonecrestga.gov/district_map.php