Testingfg of Ads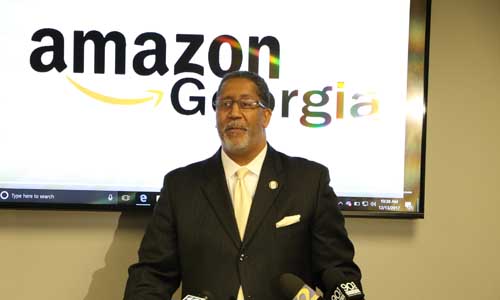 The city of Stonecrest and Smart Reach Digital are launching a digital marketing campaign in Seattle, Washington to win Amazon's HQ2 headquarters.
Employees at Amazon's Seattle headquarters, along with CEO Jeff Bezos, will receive pop-up messages on their smart phones and other devices about the benefits of creating Amazon as a corporate city,Mayor Jason Lary said during a press conference at City Hall on Dec. 13.
Lary said it is important that Amazon knows the city is serious about its bid for the company's second world headquarters, which would bring 50,000 jobs to the area. The ads, Lary said, are designed to keep the city of Stonecrest out front. Since Amazon announced it was seeking a home for its HQ2 headquarters, 238 cities threw their names in the hat to compete.
Stonecrest received national attention in October after the Stonecrest City Council approved a resolution to ask state legislators to de-annex 345 acres of its city and donate it to Amazon to build its own corporate city, if the city wins the bid.
"We think creatively here in Stonecrest and are eager to launch this innovative tactic to educate Amazon executives on the benefits of placing HQ2 in Amazon, GA," Lary said of the guerilla marketing plan.
The ads, which link to the city of Stonecrest's web site at http://www.stonecrestga.gov/focus_CityOfStonecrest.php started on Dec. 13.
To watch the video of the Dec. 13 news conference, go to www.ocgnews.com.