Testingfg of Ads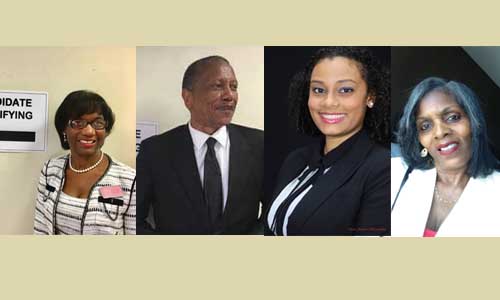 Two of the three incumbents seeking re-election to the Stonecrest City Council will face no challengers in the Nov. 7 election. Jimmy Clanton, Jr., Post 1, and Diane Adoma, Post 5 are running unopposed and with their re-election will serve four-year terms.
Incumbent Jazzmin Cobble, Post 3, will face challenger Alecia L. Washington.
Although the three incumbents have only held office since June in the newly-formed city, they must run again because all odd-numbered municipal posts are up for re-election this year.
Washington said she decided to throw her name in the hat because she wants to be a part of laying the foundation for the new city.
"I have always had the heart of my community and a passion for serving the community," said Washington. "I'm running because I want to be a part of the new city, to help set and work on our priorities," Washington said.  Washington is founder of the nonprofit, The City of Hope Safe Haven, Inc., which provides transitional services to those in need. A community organizer who lives in the Glencroft community, she has been a resident of DeKalb County for nine years. The 65-year-old is a native of Chicago.
Cobble said she hopes voters will re-elect her to continue representing them.
"We're just getting started. We're making really great progress and I look forward to staying the course and serving the needs of our community," said Cobble, who recently held a community cleanup day and community meeting.
Councilwoman Adoma, who qualified on the first day of the qualifying period, said she is looking forward to continue serving on the City Council.
"Leading Stonecrest, District 5 is about transforming the vision into reality.  Now, I have been entrusted with four years to bring to fruition a better quality of life by creating projects that enhance our community," said Adoma. "I am looking forward to working with all to implement new ideas to create high-paying jobs and safe neighborhoods. My passion for excellence will be accompanied by works."
Since taking office in May, Adoma has held several town hall meetings and coffee conversations with constituents. She has tackled a number of initiatives including launching a bootcamp to prepare students for the ACT and forming a young professionals Rotaract Club. Adoma attended the Georgia Municipal Association's training for newly-elected officials in June. Adoma serves as Stonecrest's Smart City liaison.
Clanton has held town hall and community meetings to provide constituents in his district updates on the city's progress. He has brought together community leaders to address a number of issues including code enforcement, crime and commercial development. Clanton also attended the Georgia Municipal Association's training for new council members. He serves as industry liaison for the City Council.
The city of Stonecrest has 10,000 residents in each of its five council districts. Voters from each district elect one council member to represent them.