Testingfg of Ads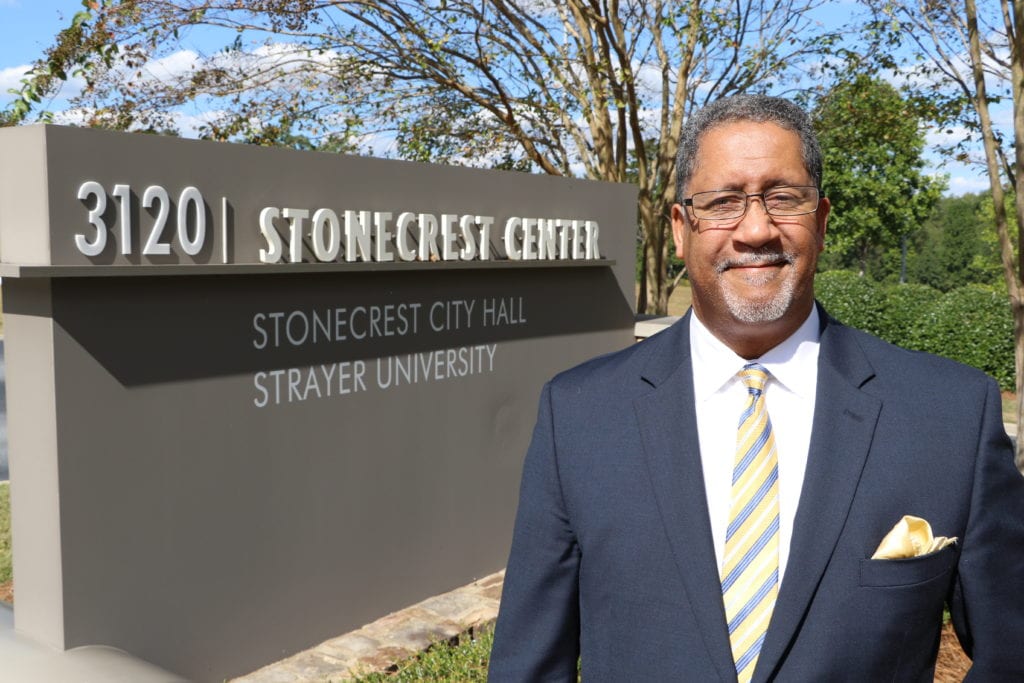 The city of Stonecrest is drawing national attention since it announced plans to create a town that would be named Amazon, Georgia inside the new city if the tech giant accepts the city's bid to build its second world headquarters in Stonecrest.
Mayor Jason Lary said he has been flooded with calls from media outlets across the country who want to learn more about Stonecrest's offer to literally put Amazon on the map with its very own town. Along with calls from local media representatives, Lary has been interviewed by AP, CNN.com, Bloomberg and Fortune magazine, just to name a few.
"It's been amazing. When you Google 'Stonecrest' and 'Amazon,' you can see all of the news stories that have been done," said Lary. "We want to bring those 50,000 Amazon jobs to the city of Stonecrest. We want them to know we're serious. We had to do something outside the box because cities across the country are competing for this opportunity."
The city of Stonecrest approved a resolution on Oct. 2 to ask state legislators to de-annex 345 acres of land off Coffee Road and Lithonia Industrial Boulevard and name it Amazon, Georgia, contingent upon the tech giant agreeing to establish its H2Q second world headquarters in Stonecrest.
When Lary pitched the idea to the City Council to think outside the box, he said he didn't believe the city had anything to lose by being creative with its bid for Amazon.
"We're a new city. We said we wanted to do things differently. Well, this is different. I figured we had everything to gain," said Lary.
As the architect of the city of Stonecrest, Lary spent four years working to get the cityhood referendum on the ballot in November 2016. After voters approved the city, Lary then had to go into election mode. In March, he became the city's first mayor.
"I know what it takes to build a city and I know it won't be easy, but if Georgia wants Amazon to come badly enough, we will get it done," Lary said.
The city is proposing to enter into an intergovernmental agreement to operate Amazon, Georgia.
City Councilman Jimmy Clanton, Jr. said the city's offer to Amazon has put Stonecrest on a world stage to compete for other economic development opportunities.
"Even if they (Amazon) don't move their headquarters here, other corporations might come" Clanton said.
Lary said the city has gotten the attention of Seattle, Washington, the state where Amazon's headquarters are located.
The Seattle Times reported:
Denver, Detroit, Rhode Island and Bothell, lay down your Amazon HQ2 application forms and give up now: A town outside Atlanta has surely clinched the multibillion-dollar deal for the technology titan's second headquarters with its novel proposal.
The town of Stonecrest, which just elected its first city council and mayor in March, approved on Monday a plan to carve off 345 acres on which Amazon could have a city named after itself."
Amazon announced on Sept. 7 its plans to open HQ2, a second headquarters, in North America. The facilities would be equal to its campus in Seattle. Amazon said the new headquarters should have easy access to an airport with direct flights to Seattle, New York, San Francisco and Washington D.C.
Stonecrest officials said jurisdictions in Georgia must submit their proposals to the Georgia Department of Economic Development, which will consolidate all of the proposals it chooses and submit them as one package to Amazon by Oct. 19.