Testingfg of Ads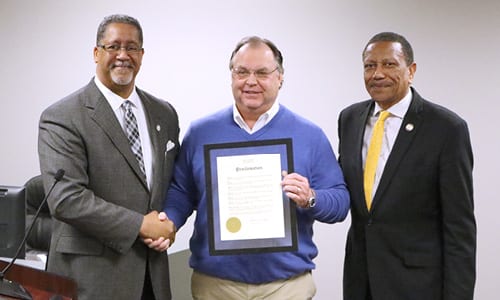 The city of Stonecrest honored Joe Coleman, owner of CS Truck and Trailer, at the March 19 City Council meeting.
Mayor Jason Lary presented Coleman with a proclamation recognizing CS Truck and Trailer as one of the top companies in the metro Atlanta area recognized by The Atlanta Journal-Constitution (AJC). The AJC recently honored CS Truck and Trailer as a "Workplace Achiever," citing employee feedback scores that exceeded national standards. CS Truck and Trailer, which has 101 employees and is located in the industrial park within the city of Stonecrest, was among 32 companies named in the "Workplace Achiever" category. The company has been in business for 19 years and provides maintenance, repainting and repair services for semi-tractor trailers.
Lary commended Coleman for his excellence and example.
"We want to start a tradition of honoring those people who put their money, their time, their grit, their service, their risk on the line for our city," said Lary as he and Councilmember Jimmy Clanton made the presentation. Clanton's District 1 includes the industrial park where CS Truck and Trailer is located.
"I can do none of this work myself. It's this group of people here who have made the difference," Coleman said in thanking and acknowledging his employees who attended the presentation with him.
Coleman thanked the mayor and council members as well.
"What you're doing here with us is what we want to do with the rest of the business community and the government in showing and proving that we can work together. In doing that, we can attract more businesses, more jobs, more opportunities for restaurants, hotels…," said Coleman.
Attorney Bernard Knight, who represents several businesses in the industrial park, applauded Coleman for his outstanding work.
"Mr. Coleman started that (CS Truck and Trailer) pretty much from scratch and he has built it into something the city can be very proud of," Knight said in introducing Coleman before the proclamation presentation from the mayor and council.