Testingfg of Ads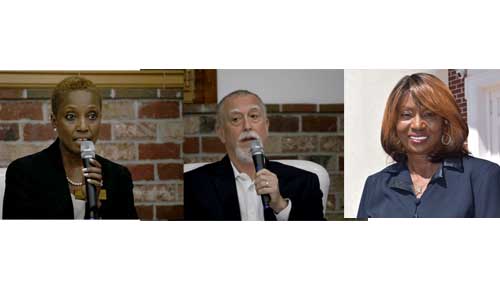 L-R: Tammy Grimes, Dave Marcus, and Barbara Hall
Stonecrest voters will return to the polls to elect the next District 5 City Councilmember.  Tammy Grimes appeared headed for a runoff with Dave Marcus, since no one in the six-way City Council race received more than 50 percent of the vote as required.  The special election was held to fill the unexpired term of former Councilwoman Diane Adoma.
Grimes, a veteran educator who is an Instructional Support Specialist for DeKalb County Schools, received 698 votes (45.38 percent), while Marcus, a retired strategic planner and financial analyst, received 256 votes (16.64 percent). Barbara Hall, an elder at New Birth Missionary Baptist Church and former law enforcement officer, placed third with 250 votes (16.25 percent).
Hall has said she may seek a recount. Marcus had a slight edge with only six votes more than she had, according to unofficial early results.
The Board of Elections will officially announce candidates in the runoff and advance voting dates and locations after it certifies the votes on Nov. 15. Advance voting could begin before Thanksgiving, officials said. Election Day is Dec. 3. For updates, visit www.ocgnews.com