Testingfg of Ads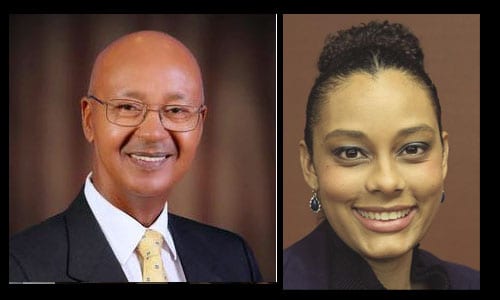 Stonecrest community volunteers honored
Stonecrest District 4 Councilman George Turner and District 3 Councilwoman Jazzmin Cobble honored dozens of the city's devoted volunteers at a joint Town Hall meeting, wrapping up 2019 activities for their districts. The Dec. 19 awards program was held at Big Miller Grove Baptist Church, 3800 Miles E. Fowler Way, Stonecrest.
"We just wanted to celebrate them for their commitment as volunteers. Their dedication and service means a lot to the city and this was just our way of saying thank you to those who were appointed to various committees that represent District 4 and District 3," said Turner.
Turner said the following citizens were recognized fortheir volunteerism:
Keep Stonecrest Beautiful
Curtis Nelson
Darryl Andrews
Kenneth Taylor
Planning Committee
Eric Hubbard, District 3
Pearl Hollis, District 4
Zoning Appeals Board
Sonja Hicks, District 3
Michael Armstrong, District 4
Housing Authority Board
Diane Robinson, District 3
Dennis Dae, District 4
Development Authority Board
Cynthia Elliot, District 3
Sam Stuckey, District 4
Arabia Mountain Steering Committee
Eric Hubbard, District 3
Film Committee
Victoria Turner, District 3
Stacy Thibodeaux, District 4
SPLOST Oversight Committee
Swain Waters, District 4
Overlay Committee
Andrew Wells
Ashley Scott
Eugenia Gregory
Frank Bush, Jr.
Gwendolyn Irvin
Leisha J. Fuller
John Castles
Josephine Lamar
Barbara Lee
Neva Jones Foster
Sharon Harris
Stacey Thibodeaux
Swain Watters
Virginia Hinton
Willie Hinton
Vivian Pollard
Patsy Turner
Johnny Waits
Renee Cail
2020  Complete Count Census Committee
Donna Douglas
Sandra Edwards
Michael Morgan
Gertrude Morgan
Barbara Lee
Ramonda Raven
Patsy Turner
Melva Hubbard
JP Phillips
LaVeeta Branche
Kendra Price
Terry Lee
Transportation Committee
Neva Jones Foster
Lyle Harris
Johnny Waits
Winston McDonald
Joseph Miller
In addition to honoring those who have served on various committees, Turner also honored Carleen Cumberbatch, a longtime South DeKalb activist who was earlier  honored with a Lifetime Achievement Award by Living Stones Ministries Church in Decatur, where she is a member.