Testingfg of Ads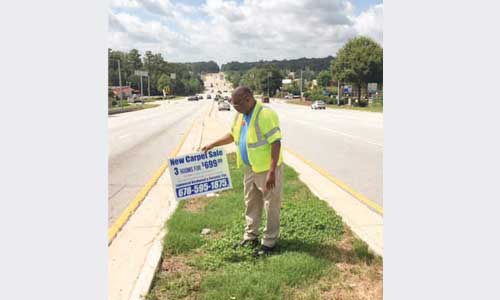 The city of Stonecrest held a swearing-in ceremony at the Aug. 21 City Council meeting for the city's two code enforcement officers: Al Ferrell, chief code enforcement officer, and Officer W. Kirkland.
The officers have been out in the community responding to calls and are cracking down on signs that are illegally place in right of ways in the city.
"We recently went out and picked up more than 60 signs that were illegally placed," said Al Ferrell, Chief Code Enforcement Officer.
Placing signs in right of ways such as on the grass adjacent to Turner Hill Road is illegal regardless of the size and type of sign.  This violates the city's sign ordinance and can carry up to a $1,000 fine per sign.  The offense is a misdemeanor and can go on an individual's criminal record.
Ferrell said that he and his officers are trying to gain compliance before issuing citations.  "We are encouraging people not to violate these sign ordinances; however, after a warning, we will issue citations," Ferrell said.
In addition to tackling sign pollution, city officials have posted pictures of several other examples of violations on the city's web site: stonecrestga.gov/code_enforcement.html. To report violations, call the Code Enforcement Department at 770-224-0200 or e-mail codeenforcement@stonecrestga.gov. You may e-mail pictures with the information sent.