Testingfg of Ads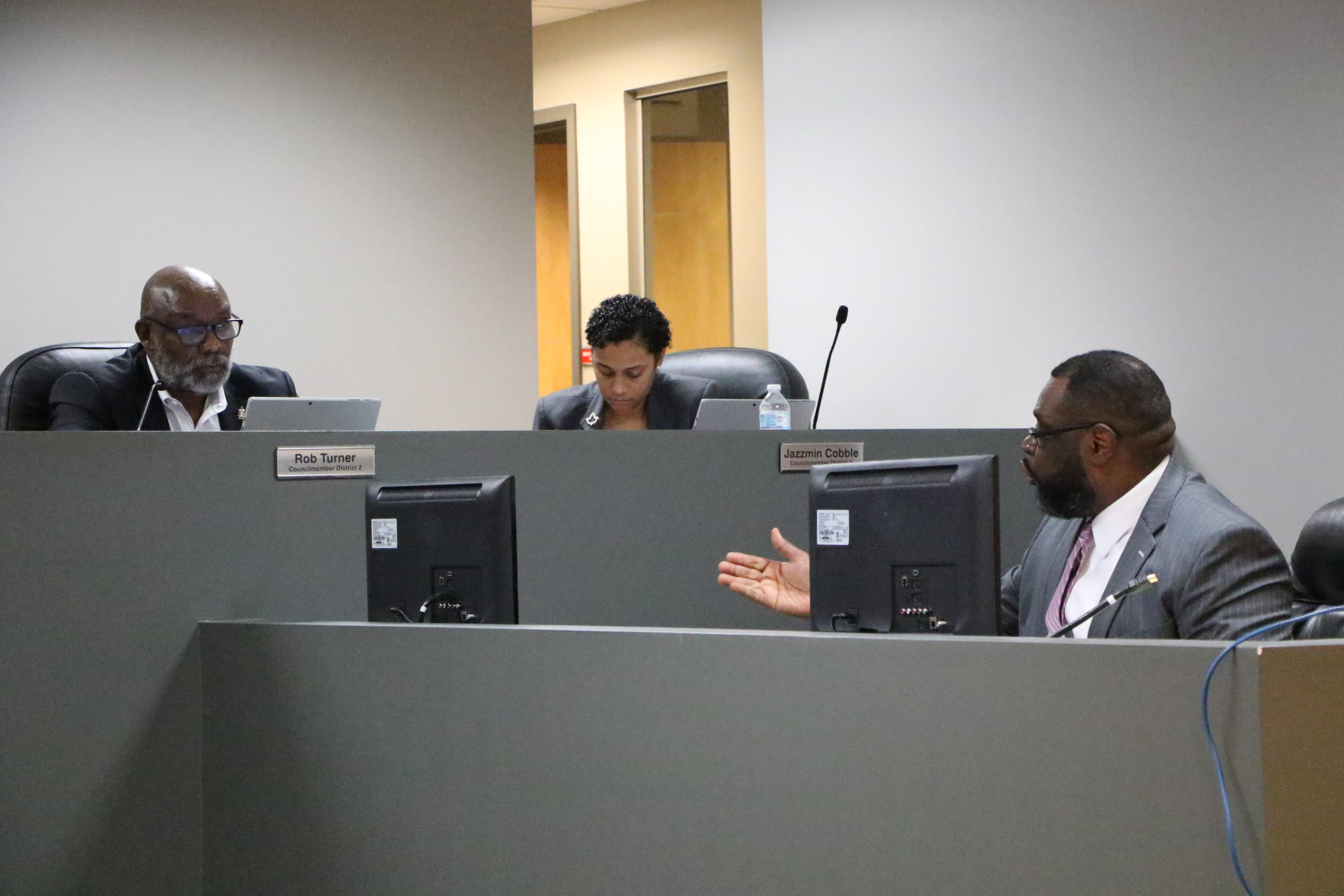 Left to right: Councilmembers Rob Turner and Jazzmin Cobble listen as CityAttorney Winston Denmark speaks.
Four members of the Stonecrest City Council—George Turner, Tammy Grimes, Rob Turner and Jazzmin Cobble—this evening staged a walkout of the regular meeting after a contentious special called meeting was held concerning Councilwoman Cobble.
Only Councilmember Jimmy Clanton and Mayor Jason Lary remained on the dais as a bewildered audience was left trying to make sense of why the four council members had left the meeting soon after it began.
The attendance record of Cobble, who represents District 3, was the center of a heated debate at the special called meeting, which was held at 4:30 p.m., before the regular City Council meeting. The council deadlocked 2-2 on Councilmember Rob Turner's motion to retroactively excuse Cobble for being absent from two meetings in a three-month period last year. Councilmember George Turner sided with Rob Turner. Councilmember Jimmy Clanton and Mayor Lary voted against excusing the absences, with Clanton later saying "We cannot on the fly change the charter to suit ourselves and our self interests."
Councilmember Tammy Grimes was not allowed to vote because she had not been elected when the absences occurred and therefore could not retroactively excuse a councilmember's absence.  Cobble was the subject of the vote and therefore disqualified, officials said.
Under the city's charter, Section 2.03 (a) states that a council person forfeits his or her office by "failing to attend one-third of the regular meetings of the council in a three-month period without being excused by the council. "
Councilwoman Cobble's absences occurred on Sept. 23 and Oct. 14. She said she was absent due to work, declining to elaborate following the special called meeting. Cobble said her attorney would be issuing a statement on her behalf.
City Attorney Winston Denmark said the council could not legally retroactively excuse Cobble for the absences, even if there is some ambiguity in the charter.
"Regrettably, the charter does not expand on being excused by the council. It doesn't say without being first excused by the council nor does it say that the council can, after the fact, excuse an absence. If it is the case that the charter causes a forfeiture in office upon missing a third of the meetings, or, under some set of circumstances, that forfeiture would occur by operation of law," Denmark said. "It is my opinion that once the office has been forfeited, the council could not retroactively go back and excuse the absences."
Cobble notified City Clerk Megan Reid by email on both days of her absences.  The emails stated that Cobble was out of town for work-related reasons.
Rob Turner said that although the council did not formally approve Cobble's absences, he believed that the notifications from Cobble to the City Clerk were sufficient "for an excused absence."
The mayor said, however, that notifying the clerk of an absence does not constitute an excused absence.
"The council must have taken action.  Someone would have to make a motion to excuse the absences and then a vote would have to occur.  This didn't happen and therefore the absences are unexcused," Mayor Lary said during the special called meeting.
Lary continued the regular council meeting without the four members after the walkout following the 2-2 vote. Although no votes were taken because there was not a quorum, presentations and information from staff were made to the public. The mayor also explained why the walkout took place.
In addition to the council meetings, Cobble missed three special called meetings, Lary told the public.
"She missed not only two meetings, she missed all of the special called meetings—five meetings–in a three-month period of time. Those other three don't count but what counts is the two," Lary said.
Lary told the public how the council, with the exception of Clanton, had refused to excuse him from being absent while he was battling prostate cancer.
Lary said he continued attending the meetings because he could not get the council to approve any leave of absence during his treatment. Lary missed only one council meeting in 2019, according to the City Clerk's records. Clanton, and George Turner had perfect attendance, along with Diane Adoma up until she resigned.
"The only person that would excuse me was Councilman Jimmy Clanton. I got emails like 'Well, should we pay him? How long does it take before he's out of office? It was nothing with regard to what my plight was or what my wife's plight is at this point," said Lary.
Lary said he found it hard to believe that the council would dare vote to retroactively excuse Cobble for being absent because of her full-time occupation.
"How do you not let a person off for cancer? It doesn't matter that it's Jason Lary or not. How do you not vote for that? How do you not do that? And then you turn around and somebody else is busy and they can't make it and you're going to retroactively vote for them to be absent?" Lary said.
City officials said they plan to file a declaratory judgment action to ask a superior court judge to decide whether Cobble must vacate her seat based on the charter.