Testingfg of Ads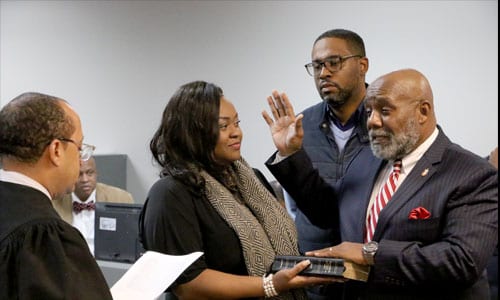 Stonecrest City Councilmembers George Turner and Rob Turner (who are not related) were sworn in to second terms tonight (Jan. 13) at City Hall chambers. Both men were re-elected in unopposed races.
Stonecrest Municipal Judge Michael Sheridan performed the swearing-in ceremonies. A crowd witnessed the event, which took place at the first City Council meeting for 2020.
George Turner also was unanimously reelected by council members to serve a two-year term as mayor pro tem. The mayor pro tem chairs the meeting in the absence of the mayor. The number of successive terms an individual may hold the position of mayor pro tem is unlimited, according to the city's charter. Councilwoman Jazzmin Cobble nominated Turner for the position.