Testingfg of Ads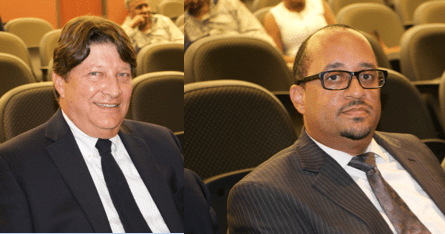 The Stonecrest City Council deferred a decision today on Mayor Jason Lary's recommended appointment of the city's first municipal judge, Attorney Michael Sheridan and Attorney Jonathan Weintraub as judge pro tem.
The council deferred a decision on the appointment until Aug. 7. Council members said they needed more time to review and discuss the two attorneys' credentials and others who applied for the positions.
"These are the two best qualified people," Lary said in a statement. "These attorneys would serve the city best as judges. They have been working in DeKalb County for years."
Sheridan, a Howard University graduate has practiced law for 11 years. He is a partner in the law firm of Davis & Sheridan, LLC.
Jonathan Weintraub is a former county attorney with DeKalb County government. A veteran attorney with 38 years of experience in local, government and municipal law, he has degrees from Syracuse University, Georgia State University and a Juris Doctorate from Walter F. George School of Law at Mercer University.
In other city business, the mayor and council agreed on a resolution for membership in the Georgia Interlocal Risk Management Association. Membership allows the city to purchase general and property liability insurance as well as insurance for city document errors and omissions. The annual premium will cost the city $14, 050 which will be prorated for 2017.
The council also voted unanimously to accept a new city logo and to approve the use of QS/1 Governmental financial software to help the tracking of business licenses and budgeting.
The council approved the appointment of Grey, Pannell and Woodward, LLP as the special counsel for the city's tax anticipation note.