Testingfg of Ads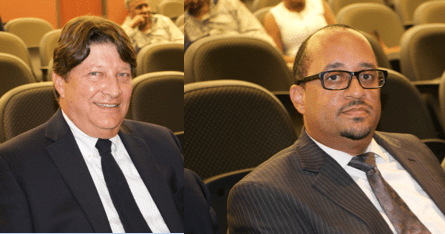 The Stonecrest City Council confirmed the appointment of the new city's first municipal judges on Monday (Aug. 7), naming Attorney Jonathan Weintraub as chief judge and Attorney Michael Sheridan as judge pro tem.
Weintraub, a former county attorney with DeKalb County government, is a veteran attorney with 38 years of experience in local, government and municipal law. He has degrees from Syracuse University, Georgia State University and a Juris Doctorate from Walter F. George School of Law at Mercer University.
Sheridan, a Howard University graduate, has practiced law for 11 years. He is a partner in the law firm of Davis & Sheridan, LLC.
Mayor Jason Lary, who made the appointments, said he switched the attorneys' roles after weighing considerations from City Council members who had asked to defer confirmation until they could review the attorneys' credentials.
"We felt that since Attorney Weintraub had code enforcement and traffic court judge experience, we wanted to start off with him as lead judge," said Lary.
 Weintraub said he is looking forward to working with Sheridan and using his experience as a judge to help the new city.
"I worked with DeKalb County on code enforcement to clean up properties that were abandoned, and in 1993, I established the county's in-house law department," said Weintraub, who plans to seek judicial re-certification over the next few weeks. Sheridan, who said he also is looking forward to working with the city, will seek continuing education certification. The attorneys expect to start their part-time jobs as judges in October.        
The judicial appointments were approved 4-2 with Council member George Turner and Jazzmin Cobble casting dissenting votes. Cobble said she had hoped an appointment would be made from candidates recommended by the Governor's Commission, which was established to help set up the new city. She also said she wasn't satisfied with the men's experience for judge, among other reasons, and she would have preferred representation from the African American community for the positions.
In other action, the City Council appointed Attorney Bernard Knight to represent the city of Stonecrest on the East Metro Community Improvement District (CID) Board of Directors. The city is permitted one seat on the CID's seven-member board.  Knight, an attorney who represents several businesses in the city, will be responsible for negotiating intergovernmental agreements for the provision of services by the self-taxing business district as well as ensuring that the CID is allocating the proper funds to Stonecrest businesses.
A sign ordinance for the city also was unanimously adopted. The mayor and council adopted the DeKalb County Sign Ordinance with some amendments including restrictions on size and construction of signs that are erected in Stonecrest. The ordinance also prohibits abandoned or damaged signs. As in DeKalb County's ordinance, city laws prohibit placing signs in the right of way adjacent to city roads and highways. The new city ordinance includes photos so that residents and business owners can view examples of acceptable, legal signs.
The DeKalb County Comprehensive Plan also was adopted by the city council on Monday (Aug. 7). The plan outlines strategies and goals for residential, commercial, and industrial growth, along with land use, transportation, natural and cultural resources planning. The city can use the county's plan for two years. The City Council must then adopt its own 20-year plan in accordance with Georgia law.
The Stonecrest Zoning Ordinance, a modified version of the DeKalb County Zoning Ordinance, was adopted unanimously by the council. Changes to the ordinance include the rezoning for sexually oriented businesses. The council will only allow sexually oriented businesses, mainly adult entertainment clubs, in industrial areas zoned M2.
The council also approved the following appointments to the Planning and Zoning Commission:
District 1 – J. W. Eady
District 2 – Wanda McNeil
District 3 – Eric Hubbard
District 4 – Michelle Emanuel
District 5 – Lisa Wright