Testingfg of Ads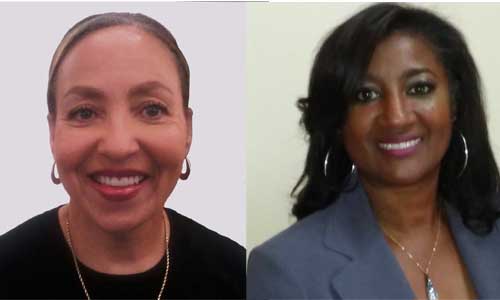 Pictured L-R: Edwina Clanton, elected chair of the Stonecrest Business Alliance, and Stacey Thibodeaux, elected vice chair.
The Stonecrest Business Alliance, Inc. held its Annual General Body Meeting and Board of Directors elections on Sept. 16.  After the general membership elected board members, the newly-installed board elected Edwina Clanton as chair and  Stacey Thibodeaux  as  vice chair.
Edwina Clanton is the Broker/Owner of East Metro Brokers.  She serves on the Stonecrest Businss Alliance as a representative of the Parks of Stonecrest, one of the largest residential subdivisions in the City of Stonecrest. She is also president of the Women's Council of Realtors DeKalb; 3rd vice president of the NAACP DeKalb; a member of the City of Stonecrest Housing Authority and is active on many boards and committees in the city of Stonecrest. Edwina is the wife of District 1 Stonecrest City Councilman Jimmy Clanton.
Stacey Thibodeaux is a real estate broker associate with Solid Source Realty in Stonecrest.  She is an executive director and state director with the DeKalb Board of Realtors.  Stacey serves on the DeKalb County Watershed Customer Service and Billing Advisory Board. She serves on the Stonecrest Film Committee, and is active on a number of boards and committees in the Stonecrest community. Stacey's husband, Joel, is director of Internal Audits with the DeKalb County School System. The couple lives in Stonecrest.
The Stonecrest Business Alliance is a 501(c) (6) membership non-profit corporation serving Stonecrest since 2011.  Its mission is "to promote and cultivate sustainable economic growth within the Stonecrest Community".  The Alliance was formed in 2011 to lead the effort of businesses in The Mall at Stonecrest area to apply to the Atlanta Regional Commission for a Livable Centers Initiative grant. The successful application resulted in the 2013 Stonecrest LCI Plan, which SBA has worked to implement since then.  More recently, SBA has expanded its role to serve businesses and the residential community throughout Stonecrest, and has given important input to revisions of the Stonecrest Overlay District, which were adopted by City Council late last year, and to the Stonecrest Master Transportation Plan that City Council enacted at its most recent meeting.  SBA has also served Stonecrest voters during recent elections by holding a City Council District 5 Candidates' Forum in September 2019, and a Sheriff's Candidates' Forum in March 2020.