Testingfg of Ads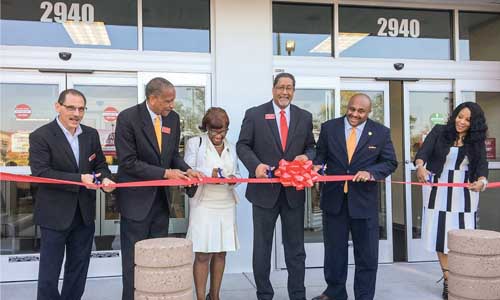 The Stonecrest Burlington Coat Factory is now open for business. The new store celebrated its grand opening on Sept. 22 with city officials, community leaders and store representatives.
Mayor Jason Lary, City Council members Diane Adoma and Jimmy Clanton and Eric Hubbard, who is the District Outreach Director for Congressman Hank Johnson joined Burlington Regional VP Terry Mosley and store manager Greg Sapp for the ribbon cutting ceremony. The ceremony was followed by a donation of three pallets of new store items to Helping Oppressed Mothers Endure, Inc. (HOME). The organization helps single, working or student mothers survive the tough times and persevere toward success in life, according to Carolyn A. Watson, founder.
"We provide immediate resources to rebuild, restore and furnish homes of moms emerging from divorce, violence or in desperate need of starting over," Watson said.
Mayor Lary expressed his appreciation to Burlington for the impact the store is making in the community.
"You have started out doing great things in the community on your first official day in business. We support you and welcome you to Stonecrest," Lary said.
The 45,775-square-foot store is located in renovated space vacated by Best Buy, which left in late spring 2016 from Turner Hill MarketPlace at 2940 Turner Hill Road. Burlington joins anchors Toys "R" Us and Bed Bath & Beyond.
In addition to the Stonecrest store, Burlington has two other locations in DeKalb County: one at North DeKalb Mall and one on Buford Highway in Doraville. The national discount retailer, which features ladies' apparel, menswear, children's and babies' clothing, family footwear, coats, furniture and home décor, has 596 stores across the U.S.