Testingfg of Ads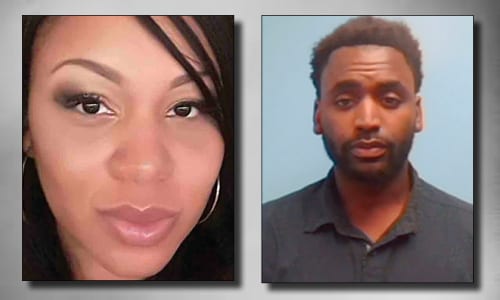 Keitran Foots, 30, wanted for the murder of his girlfriend, Sharika Bowman, 35, has been arrested, DeKalb County Police announced. 
Foots was captured near Granville, N.C. on April 1 around 2:30 a.m. after law enforcement located him in a shed, authorities said.
Foots is accused of gunning down Bowman on March 30, around 10 a.m., in the driveway of the home they shared at 4788 Wyndham Drive in Stone Mountain. Foots approached the SUV where Bowman was sitting and allegedly shot her multiple times, killing her, police said.  
DeKalb detectives said Bowman's 13-year-old son, who was inside the house when the shooting, called 911. The teen is one of five children Bowman had, including a one-month-old and a one-year-old, relatives said. 
Foots sped from the scene after the shooting.  Authorities tracked Foots to Granville, N.C. after they were able to ping the location of Foots' cellphone to a hotel parking lot. Foots sped off with deputies in pursuit and lost them as he drove northbound on I-85. Foots exited the interstate and reportedly jumped out of the vehicle at some point. Authorities pinged Foots' cellphone to a shed near the Granville County-Vance, N.C. border, where he was captured without incident, police said.
Authorities have not said what the motive for the shooting was.