Testingfg of Ads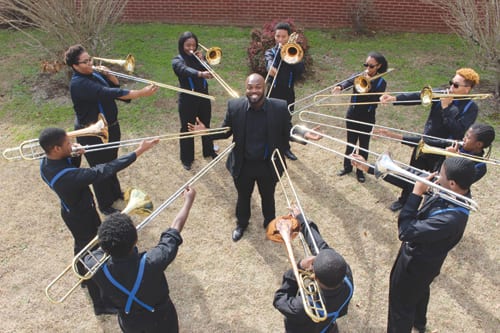 The Stephenson High School Trombone Choir from DeKalb County has been invited to perform at the 2018 Music for All National Festival, presented by Yamaha, the nation's most prestigious festival for scholastic musical ensembles. The 27th Annual Festival, which showcases the finest music ensembles and student musicians in America, will take place in Indianapolis, Indiana, March 15-17.
Under the direction of Calvin L. Morris, Jr. and Quentin R. Goins, the Trombone Choir was selected to perform by a panel of esteemed music educators and conductors, who judged a recorded audition.
"When we received the news of our acceptance to the National Festival, it was an instant joy," Stephenson band directors said in a news release. "The students worked extremely hard with extra chamber rehearsal after large group rehearsal, weekends, and even some holiday breaks."
Along with their selection for the National Festival, the students performed at the Georgia Music Educators Association In-Service on Jan. 25.
The Trombone Choir is one of 71 high school and middle school chamber ensembles from across the nation selected to perform at the 2018 Festival. The choir will perform in concert, be evaluated by renowned music educators and participate in master classes and special events.
The choir's participation in the upcoming festival will cost approximately $800 per student at a total of $15,000 for all of the students, directors and chaperones to attend the three-day festival. The costs include transportation, meals, lodging, uniform shirts, gratuities and other incidentals.
To assist the band, please visit www.stephensonhighband.net and click on the Paypal button and notate that your donation is for the Trombone Choir. Donations to Stephenson High School Band Boosters, Inc. are tax deductible.
For more information, contact the band director at 770-469-4080 or via email at quentin_r_goins@dekalbschoolsga.org.