Testingfg of Ads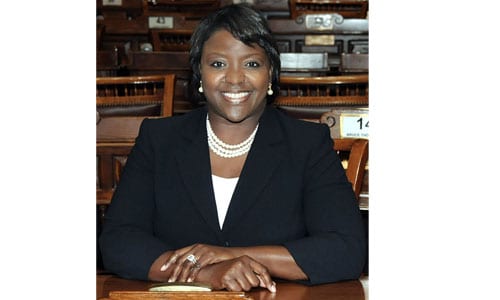 State Sen. Tonya Anderson (D – Lithonia) says help is on the way for people who have misdemeanors on their records to be discharged and gain employment and housing opportunities.
Anderson told the Rockdale Democratic Party at its Aug. 29 meeting that her authored bill, Senate Bill 288, would require that an individual's criminal history record ibe restricted when the charges have been dismissed, or there has been a disposition of the charges.
The legislation was signed by Georgia Gov. Brian Kemp on June 30 but won't take effect until Jan. 1, 2021, Anderson said. She said there wasn't enough time for the legislation to take effect on July 1, 2020.
"I am extremely proud of the passage of Senate Bill 288," said  Anderson. "This legislation will unlock opportunities for thousands of Georgians who want to work, rebuild their lives and provide a better future for their family. Those who may have been disqualified from housing and job applications due to their criminal record will now have a second chance to move past mistakes and create a brighter future. Additionally, this will offer a tremendous boost to our economy."
Anderson said the legislation would help millions of Georgians. Out of 11 million Georgians, 4.3 million have a record, she said.
Under SB 288, individuals would be able to petition for their misdemeanor offense to be restricted as long as they have not committed another offense within four years, and the misdemeanor was not violent or sexual.
The legislation, which passed unanimously in both the Senate and the House, was carried in the House by Rep. Houston Gaines (R – Athens).
Anderson said in the coming months, lawmakers would be working with solicitor generals to put into place a smooth process for those who petition the court to restrict their records.
For more information on Senate Bill 288, please click here.