Testingfg of Ads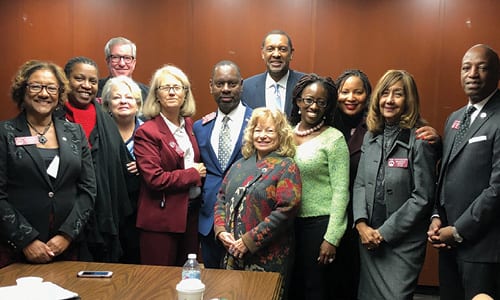 By Mackenzie N. Morgan   
Long-time Georgia legislator Howard Mosby is relinquishing his position as chair of the DeKalb House Delegation to State Rep. Karla Drenner, who will serve as interim chair until the delegation holds elections in January. Drenner moved up from vice chair. Mosby passed the torch during a meeting with the Delegation at the Capitol on Nov. 15.
Mosby is wrapping up his duties as state representative, a position he held for 14 years, as Becky Evans prepares for the seat. Evans will be sworn into office and officially begin her duties as State Representative, District 83, in January.   
Evans won the Democratic nomination in the May 22 primary and advanced to the general election in November with no Republican challengers.
Mosby was first elected in 2002 and served seven two-year terms as a member of the Georgia House of Representatives for District 83, which includes Gresham Park, East Lake, the City of Decatur and Druid Hills. In addition to his role as state legislator, the Atlanta native served as chairman of the DeKalb House Delegation as well as several committees including the House Ways and Means Committee;  House Health and Human Services Committee, and House Governmental Affairs Committee.
Mosby has been appointed to the Atlanta Transit Link (ATL) board of directors. Mosby, whose appointment begins on Dec. 4, will represent the board's District 9, which covers portions of South DeKalb, Henry and Clayton counties.
As the representative of an odd-numbered district on the board, Mosby will serve two years and be up for re-appointment after the two-year term. Those appointed to even-numbered districts will serve four-year terms to prevent appointments to all of the seats at the same time. 
DeKalb CEO Michael Thurmond and Atlanta Mayor Keisha Lance Bottoms also have been appointed to the ATL board.  
The Atlanta Transit Link, signed into legislation May 3, 2018, is a regional governance and funding structure created to improve coordination, integration and efficiency of transit in metro Atlanta. The ATL shares administrative resources with the Georgia Regional Transportation Authority (GRTA) and is governed by a 16-member board.