Testingfg of Ads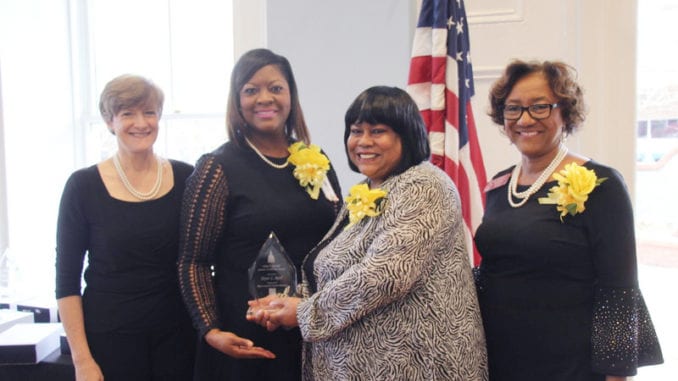 For years, Joyce Reid has worked tirelessly in the DeKalb County community, whether helping with projects at St. Paul A.M.E Church in Stone Mountain, where she's been a member for eight years, or volunteering with the Democratic Party to get out the vote, or the NAACP with its education initiatives. Concerned about DeKalb County's public schools, Reid recently completed training to volunteer to help children in low-performing schools to succeed.
"I'm just what you call a helper. I don't have a fancy title or anything like that. I just help out wherever I can," said Reid, who says her volunteer work has included answering phones, helping in the library, "really, whatever they ask me to do."
Reid's humble spirit and willing to work is what caught the attention of State Rep. Karen Bennett, who represents House District 94, where Reid lives. This year, Bennett nominated Reid for the Georgia Legislative Women's Caucus' Yellow Rose Servant Leader Award, which is celebrated in March during Women's History Month. Reid was one of several women who were honored by their state legislators at the Georgia Capitol on March 5.
"Every year, I try to select a woman from the district that I represent who embodies the characteristics of Nikki T. Randall for whom the award is named," said Bennett. "Joyce works hard. She deserves to be celebrated."
Nikki T. Randall made history in 1999 by becoming the first African-American female to be elected to the Georgia General Assembly from Middle Georgia.
Reid said she was excited to be honored with an award established to recognize Randall's historic contributions.
"I was really surprised. It was a wonderful experience," said Reid, who thanked Bennett not only for recognizing her, but for her participation with St. Paul A.M.E. Church's Parade of Hats Fashion Show and Luncheon, which is in its sixth year.
Reid birthed the fashion show and luncheon to help raise scholarships for high school students. She and a group of volunteers have worked hard to make sure this year's program is a success.
"It has grown bigger and bigger every year," said Reid, who will host the event on March 17. "We're hoping to raise scholarships for eight high school seniors this year."