Testingfg of Ads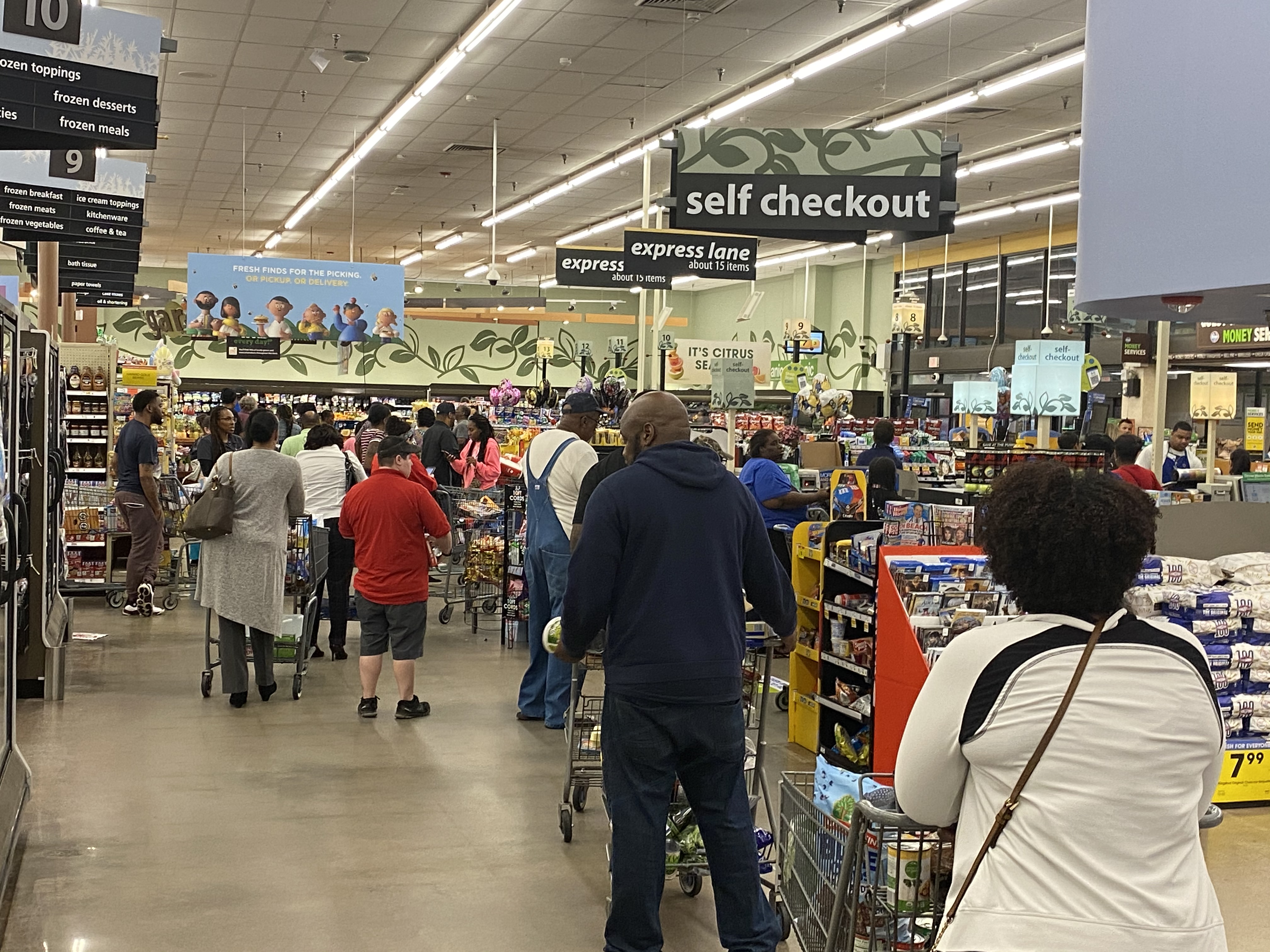 Shoppers packed the Kroger grocery store off of Highway 138 in Conyers. The lines snaked from the store's pharmacy to the check-out registers at the front of the stores on March 12. 
As state officials confirmed Georgia's first COVID-19 death, local residents stepped up their preparations for the global pandemic.
People headed to grocery stores to stock up to stay home, heeding federal, state and county officials' advice to get ready.
There were long lines at a Kroger store in Rockdale County, where shoppers filled their buggies with groceries, bottled water and other goods on Thursday evening (March 12).
LaShawn Glover hedged her bet on Walgreen's and CVS drugstore.
"There was no toilet paper, paper towels or hand sanitizer, and no bread on any of the shelves," said Glover.
In DeKalb County, grocery stores and Wal-Mart checkout lanes also were beehives of activity.
Jazzmeen Brewer, a Lithonia resident, said she had to go to three stores before she was able to find some of the items she needed at WalMart. Brewer, who has a new baby, needed bottle soap and other baby essentials, as well as toothpaste, paper towels and toilet paper.
"It was ridiculous. There was no tissue. There were long lines and empty shelves," said Brewer, who said she still needed to buy groceries. She said she planned to pre-order the groceries and do a store pickup.
"I'm really hoping that I don't have to deal with the long lines and crowds," Brewer said.
During an early afternoon news conference on March 12, Gov. Brian Kemp urged citizens to buy what they needed but said they didn't have to take the last loaf of bread, reassuring them not to panic, to save some for neighbors.
Kemp said that families should begin planning for their elderly loved ones, those who have chronic underlying health conditions and those who have suppressed immune systems because they run a higher risk of getting sick. He said families should make sure that those at the greatest risk have groceries, prescriptions and other supplies that they need. He said the goal is to dramatically limit their "exposure to the public for the foreseeable future."
"Healthofficials are now telling us that these vulnerable populations need to avoid mass gatheringsand locations with high-traffic counts of people—even faith-based services or events…We cannot be too cautious in this area and I would urge all of you to do the same," Kemp said.
Kemp said the 67-year-old Georgia man who died from the coronavirus had underlying medical conditions. The individual was hospitalized at WellStar Kennestone since testing positive for COVID-19 on March 7.
"Marty, the girls, and I are praying for the family and loved ones of this individual during this incredibly difficult time," said Gov. Kemp. "I know the medical professionals on site did everything that they could, and I greatly appreciate their efforts. As our state continues to address this pandemic, I urge Georgians to remain calm and support their neighbors and communities. We are in this fight together."
"Our hearts go out to the family and friends of this individual, and the hospital staff who cared for him," said DPH Commissioner Kathleen E. Toomey, MD, MPH. "Governor Kemp, DPH, the Coronavirus Task Force, and federal partners continue to work together around the clock to prevent the spread of COVID-19 in Georgia."
During the press conference, Kemp also announced that while he was not shutting down state government for Georgia's Capitol, he was immediately suspending non-essential travel and implementing tele-work policies for most state employees to help mitigate health risks and prevent substantial disruption of services. The governor said he was also suspending visitation for family and friends at the Departments Behavioral Health, Corrections, Developmental Disabilities, Juvenile Justice and Veteran Services. Only next next of kin in end-of-life situations would be permitted at the facilities. The suspension will be in place until April 10.
"These populations are in close contact–some with underlying health conditions that if exposed to coronavirus, could result in a serious medical problem or cause widespread infection," Kemp said.
Meanwhile, DeKalb County's CEO Michael Thurmond held a two-hour virtual town hall on March 11 with DeKalb's top officials. The public had been invited to attend the town hall but those plans were scrapped to protect the public's health.
The panel of officials, which included Dr. S. Elizabeth Ford, DeKalb County's District Health Director and interim Fulton County District Health Director, and Ramona Tyson, interim superintendent of the DeKalb County School District, among others  answered online questions from the public regarding COVID-19.
Several school districts including DeKalb, Cobb and Fulton counties have announced that schools would remain closed "until further notice." Rockdale announced that schools would be closed March 16-27 but the district would implement Independent Learning Days with students using their school-issued laptops in grades 3-12. For students in pre K through second grades, at-home assignments will be posted their school websites.
Parents are urged to follow social media and check text message and e-mails from their schooldistricts to get updates. City Schools of Decatur said schools would shift online "indefinitely."
Some school districts said they planned to have students learn online during the closings.
In addition to the school districts closing, numerous community events and public meetings were cancelled as agencies across the metro Atlanta area provided updates concerning COVID-19. The video was posted to the county's Facebook page: It's In DeKalb.
The World Health Organization said the number of countries impacted by the pandemic tripled in two weeks, with more than 118,000 cases and 4,290 deaths worldwide. In the U.S., all but six states had reported coronavirus cases as of March 12. The death toll was climbing with at least 30 in Washington state, four in California, two in Florida, one in New Jersey, one in S.D. and one in Georgia.
President Donald Trump said he was suspending all travel from Europe into the U.S. for a month for foreign nationals.