Testingfg of Ads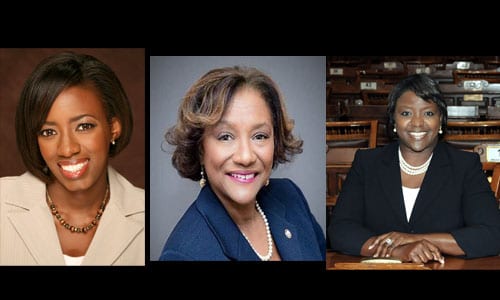 L-R Dar'shun Kendrick, Karen Bennett, Tonya Anderson
State Representatives Dar'shun Kendrick (D-Lithonia) and Karen Bennett (D-Stone Mountain), along with State Senator Tonya Anderson (D-Lithonia), will host a healthcare symposium on Saturday, May 18, 2019, 10 a.m. – 2 p.m., at the Stonecrest Library, 3123 Klondike Road, Stonecrest.
The upcoming symposium will address healthcare issues regarding maternal and infant mortality rates in Georgia, mental health wellness opportunities and disparities among diabetes and breast cancer illnesses.
"I believe it is crucial to have this conversation about healthcare, but it is particularly important to discuss maternal death rates in Georgia," said Kendrick. "These rates are number one in the nation, and the risk is three to four times higher as a woman of color, which is the majority of my district."
"African Americans are dying at a higher rate from diabetes, cancer and maternal and infant mortality, and we must do what we can to alleviate these disparities," said Bennett. "In addition to making affordable health care available to all Georgians, I hope by educating our community on social and medical determinants of health, we can help narrow the health and disparity gaps and help save lives."
"The lack of access to quality, affordable healthcare in Georgia has aided in producing disparaging statistical outcomes in maternal and infant mortality, mental health wellness and the overall well-being of citizens, specifically in the African American community," said Sen. Anderson. "We will continue to educate and fight to turn our communities around."
For more information about the healthcare symposium, contact Rep. Dar'shun Kendrick's office at 404-656-0109.