Testingfg of Ads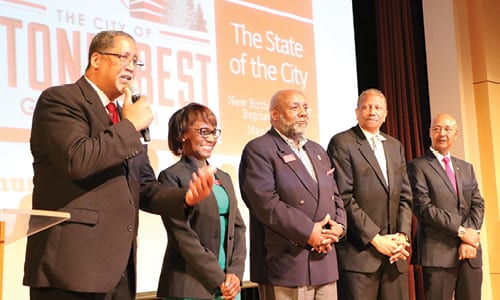 By Valerie Morgan
Stonecrest Mayor Jason Lary touted a "fully operational City Hall" and administration that is on track financially, during his state of the City Address on May 31.
Lary said the city, which turned a year old in May, finished 2017 with a surplus of $200,000, thanks to CH2M, now known as Jacobs, which set up the administration of the new city. Lary said the city expects to see a surplus of $800,000 in this year's $6.2 million budget.  
"It's been a banner year for building the city: No tax increase and operational excellence," Lary said.
About 100 people, including Congressman Hank Johnson and his wife Commissioner Mereda Davis Johnson, Commissioner Gregory Adams and DeKalb CEO Michael Thurmond, attended the address, which was held at New Birth Missionary Baptist Church. Thurmond was the program's guest speaker to celebrate the occasion.
"Mayor Lary, we celebrate you. I congratulate you on the vision, the commitment and integrity," Thurmond said.  Thurmond encouraged Lary to remain steadfast in his vision.
"You have to understand that you can't give out and you can't give up and you can't never, never give in. You've got to fight for what you believe in," Thurmond said.   
In presenting an overview of the city's finances, Lary said the city collected in its first year:
Over $300,000 for business licenses
Over $180,00 for building permits and inspections
Over $120,000 in excise taxes
Over $130,000 from franchise fees

 

The city was busy. He highlighted the following accomplishments:

 

1,500 residential and commercial building inspection permits issued
Over 1,222 Code Enforcement actions
Over 50 planning and zoning actions
Over 1,150 land development inspections
Over 35 cases heard in Municipal Court
7,000 calls received throughout April by the Stonecrest Contact Center
Lary also expressed excitement for the Atlanta DeKalb Caribbean Carnival, which brought an estimated 25,000 people to the city for the Memorial Day weekend. Lary praised Vaughn Irons for the collaborative effort with Atlanta Sports City, to bring a parade of 3,000 participants and a day-long festival that turned into a night-time party in the parking lot of the former Kohl's building at the Mall at Stonecrest. The event was colorful and orderly, said Lary, who along with the city council members, rode in the parade. There were no known disorderly incidents and business boomed for many merchants. 
Lary  said economic development, building strategic partnerships and establishing a senior advisory council and millennial advisory council are among the city's top priorities this year. 
 To watch the video of Mayor Lary's address, visit ocgnews.com.