Testingfg of Ads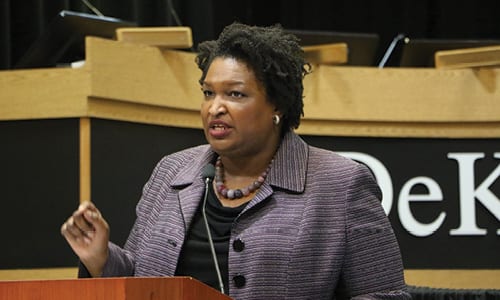 On Monday, April 30, the first day of early voting, candidate for governor and former House Democratic Leader Stacey Abrams will kick off a bus tour throughout Georgia. She will be joined by Uzo Aduba, Tracee Ellis Ross, Aisha Hinds, Rashida Jones, and local leaders as they visit Atlanta, Albany, Macon, Fort Valley, Columbus and Atlanta.
The bus tour stops in Macon, 8:30-9:30 a.m., 1501 Mercer University Dr. 
Abrams and the group will be in Fort Valley, 10:15-11:15 a.m., at 1005 State University Drive.
The bus will be in Albany from 12:45 p.m. – 1:30 p.m., at the Ray Charles Memorial Riverfront Trail.
From 3 to -4:30 p.m., the group will be at the  Emmanuel Christian Community Church,
1819 Midtown Drive,
Columbus. 
The tour wraps up in Atlanta, where the group will gather from 6 to 8 p.m., at the Gathering Spot, 384 Northyards Blvd. N.W.
Abrams has picked up several key endorsements including the Georgia Association of Educators, Care in Action, which represents 2.5 million domestic workers,  the Caring Across Generations Action Fund, a project of Bend the Arc Jewish Action, announced and the board of Georgia Equality, which  announced its choice for the 83rd governor of the Peach State on April 19.
 Abrams, a Democrat, was minority leader of the Georgia House of Representatives from 2011 to 2017, the first African-American to serve in that position. She was first elected to the Georgia House in 2007. If elected, Abrams would become the nation's first African-American female governor.
According to the board of Georgia Equality's press release, Jeff Graham, executive director, said "I'm very excited that the board has chosen to endorse Stacey Abrams. Not only is she exceptionally strong on LGBTQ issues, I believe she has an effective strategy to win in November.
"It is important for the LGBTQ community and our allies to recognize the importance of this race in terms of continuing to keep Georgia free of anti-LGBTQ laws. Stacey Abrams has not only supported our issues, she has actively supported openly LGBTQ candidates at the legislative level and has been instrumental in building the progressive infrastructure across issues that will make Georgia a better place for all to live, work, and visit."