Testingfg of Ads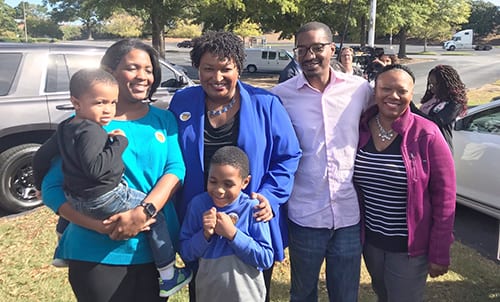 Gubernatorial candidate Stacey Abrams cast her ballot on Oct. 15, the first day of early voting, at The Gallery at South DeKalb Mall.
Abrams posted a video about the event on Instagram:   
"Today, I voted early with my family by my side. I voted early in my community, with my community, and most importantly, for my community. In the past, I always cast my ballot on Election Day. That's when my parents would take me and my siblings to vote with them. But this year, we're leaving nothing to chance. We're getting our votes in early so we have time to fix any problems that could arise – and plenty of time to knock on doors and multiply our votes over these last 15 days.
I voted for me and @GeorgiaDemocrat up and down the ballot – but we can't win on our own. We need you to roll up your sleeves and help get out the (early) vote right now."
To view a video of Abrams getting out the early vote:  https://www.instagram.com/p/BpPwDCElrJK/?taken-by=staceyabrams