Testingfg of Ads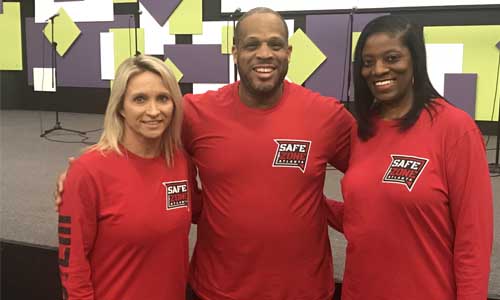 Springfield Baptist Church in Conyers served as a Safe Zone Atlanta call center in an initiative to combat sex trafficking during Super Bowl 53 weekend. More than 100 volunteers participated in the initiative.
Pastor Eric W. Lee, Sr.,  pastor of Springfield, said the initiative was coordinated to deliver a message as the masses poured into Atlanta for the Big Game:   "Not in our backyard. The church must be a center for redemption, reconciliation and Restoration," said Pastor Lee.
According to advocacy groups such as the National Center on Sexual Exploitation, major sporting events often see an increase in sex trafficking.
"The influx of men with cash to burn, combined with the celebratory atmosphere of a large sporting event, creates a perfect storm for prostitution demand," states Lisa L. Thompson, vice president of Policy and Research at the National Center on Sexual Exploitation.
Safe Zone Atlanta's goal is to mobilize a coordinated response to address commercial sexual exploitation during large sporting events in Atlanta; reach and rescue victims of commercial sexual exploitation; create a greater cohesiveness and strategy for anti-trafficking; and, strengthen community relationships and partnerships.
The Call Center at Springfield was organized by Kasey McClure, executive director of 4Sarah, a faith- based organization whose mission is to combat sex trafficking and exploitation.
For more information on Safe Zone Atlanta, visit safezoneatl.org.