Testingfg of Ads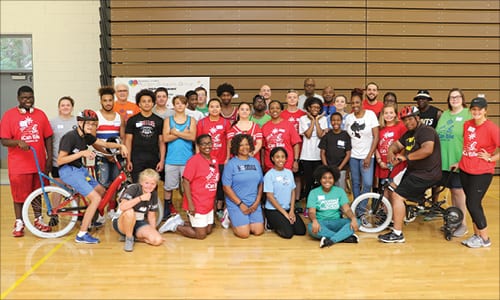 By Mackenzie N. Morgan 
Volunteers from across Rockdale County and Atlanta including students, teachers, and volunteers from the Rockdale County Sheriff's Office Explorers program teamed up to help a special group of campers learn to ride a bicycle.
The iCan Bike Camp, now in its fifth year, hosted 21 campers ranging from 8 years old to 43 years old, at Memorial Middle School in Conyers June 25-29. The volunteers offered a hand spotting riders during the weeklong camp.
"By Day 3, we had six riders riding on two wheels without assistance. It's amazing to see their faces filled with such joy and excitement as well as their parents," said Esther Maclin, who heads the Rockdale County Autism Support Group, which sponsors the annual iCan Shine Bike program.
"My son went through the program back in 2012, but I felt like the program needed to be on the east side of Atlanta because everybody doesn't have the ability to travel to Alpharetta."
Maclin said her organization has had more than 120 riders participate in the program since its inception in 2014. She said 90 percent of participants are able to ride independently at the completion of the camp.
For more information about the bike program or to make a donation, visit www.icanshine.org/conyers-ga. To learn more about autism, visit www.rockdaleautism.org. The Rockdale County Autism Support Group meets on the first Thursday at First Baptist Church of Conyers, 2100 Old Hwy 138 NE, Conyers.
Photos by Glenn L. Morgan