Testingfg of Ads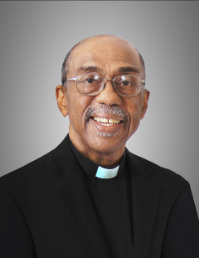 James C. Ward of Antioch Lithonia Missionary Baptist Church has been inducted in the Best Sellers' Club as a noted music composer. The South DeKalb pastor, who is celebrating his 22-year anniversary this month at Antioch-Lithonia, was inducted after selling more than 100,000 copies of sheet music he composed.
Pastor Ward collaborated with Victor Johnson to compose "King Jesus is Alive," which has sold more than 50,000 copies, and worked with Heather Sorenson to compose "O Sing Unto the Lord," which has sold 50,000 copies and was recorded at the state-of-the art Disney Studios in Orlando, Florida with Disney's orchestra. Sorenson performed the piece last May at a concert, which was held with the Covington-Conyers Choral Guild and James C. Ward Chorale. The sheet music won the prestigious JW Pepper Editors' Choice award for the Neo-Classical category.
Pastor Ward also worked with the renowned Mark Hayes to compose "Preach On, Preacher," which was recorded at in Indianapolis, Indiana at The Lodge, one of the world's premiere recording studios. The selection was published by Lorenz Music under a Mark Hayes special imprint.
"I give God the glory. I'm very humbled to be honored in this way. This type of honor validates what God is doing in you," said Pastor Ward.
Pastor Ward, who holds double bachelor's degrees—one in philosophy and one German literature–from Morehouse College, sang in the Glee Cub when he was a student. He also earned a bachelor of science degree in accounting from the University of New Orleans and a Master of Divinity degree from the New Orleans Baptist Seminary. He holds an honorary doctorate degree from Mississippi Baptist Seminary.
Under Pastor Ward's leadership, Antioch-Lithonia purchased 23 acres of land on Rock Chapel Road and built the $6.2 million church his congregation currently occupies. The congregation moved into the edifice on October 2004.
Pastor Ward has led the church in establishing dozens of ministries and numerous community outreach efforts locally and abroad. Antioch-Lithonia, for example, sent 25,000 bars of Dial soap to the Georgia State Prison System and 1,000 cell phones to Haiti and thousands of bibles to Africa and South America.
The church has hosted the late Natalie Cole, who sang there, and two Spelman College Glee Club concerts.
The Antioch-Lithonia congregation will celebrate Pastor Ward's pastoral anniversary on March 12 at both of its worship services. Minister Robert Evans, one of the church's associated ministers, will preach at the 7:30 a.m. worship service. Pastor Melvin Clark, Pastor Ward's brother-in-law, will preach at the 10:30 a.m. worship service. Clark is pastor of First Baptist Church of Baltimore Street in Mobile, Alabama. The theme for the day is "Press On. God is not Through with You Yet" and the colors are black and white.
The church, which was founded in 1869, will celebrate its 148th anniversary on March 26.
Antioch-Lithonia MBC, which hosted the Church Music Leadership Conference in 2016, is looking forward to hosting the International Composers Symposium in June, said Pastor Ward.
Antioch-Lithonia Missionary Baptist Church is located at 2152 Rock Chapel Road, Lithonia. 770-482-1277.