Testingfg of Ads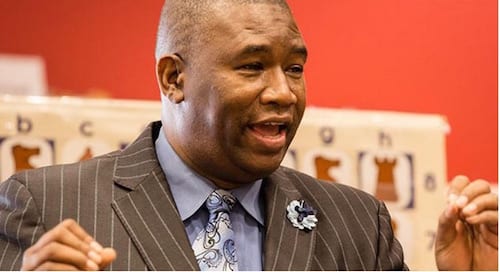 ATLANTA – Orrin Hudson, founder of Be Someone, Inc., held an exhibition during the Atlanta Small Business Expo on Thursday, Nov. 14, at the Cobb Galleria Centre.
 Hudson, whose mentoring and coaching organization is based in DeKalb County, GA,  showed attendees winning moves to succeed in business and in life, how to outthink, outmaneuver and outperform the competition and finish on top.
The Small Business Expo returned to Atlanta for the fifth consecutive year  to bring together local small business owners and entrepreneurs to network with 100 plus exhibitors as well as attend over 20 free workshops led by business experts.  
According to the Georgia Department of Labor, in 2016 more than 300,000 business establishments represented Georgia employment with 99.8% categorized as a small business.
Hudson said he was glad to have the opportunity to participate in this year's expo.
Hudson has met, interviewed and uncovered systems, strategies and methods used by the most successful business people in the world. He now teaches these unique success strategies exclusively to those who choose to 'Be the Exception and Be Someme.' For more information about Be Someone, Inc., visit be someone.org.
About Small Business Expo
Small Business Expo® is the nation's largest small business networking and educational event in the Country. From 2015-2018 it was ranked as an Inc. 5000 company as the fastest-growing privately held business. Every year, nearly 100,000 small business professionals and entrepreneurs across the country register for Small Business Expo to take their business to the next level. The show's owner, Film, Stage & ShowBiz Expo LLC. was founded in 2008 by Zachary Lezberg. For more information, visit thesmallbusinessexpo.com.
Orrin C. Hudson is a youth advocate, mentor and chess champion. He has honed his expertise in changing young lives over the past 20 years by helping students create and succeed at a life they love. An Air Force veteran and former Alabama State Trooper, Hudson brings his hard–earned knowledge of self-discipline to his students through motivational speaking, mentoring and his chess board. Through the non-profit organization he founded and now serves as Chief Training Officer, Be Someone, Inc., Orrin is committed to empowering students around the globe to be all they can be and to never settle for less. He teaches young people to be givers, not takers, and to make the right move the first time. He is committed to helping 1,000,000 students develop their untapped human potential. His work has been featured nationally on Good Morning America, CNN, FOX & Friends, CBS Early Morning Show and many more.  Learn more about Orrin and Be Someone Inc. at www.besomeone.org.