Testingfg of Ads
Pictured is the Nails and Spa salon at 2361 DeKalb Medical Parkway, Lithonia, Georgia 30058. Photo by Glenn L. Morgan  
On Friday, April 24, business was brisk at the Nails and Spa salon on DeKalb Medical Parkway in South DeKalb's 30058 ZIP Code. That ZIP Code is at the top of five ZIP Codes with the highest number of COVID-19 confirmed cases, according to health officials.
The nail salon and Beauty Max supply store, located in the same plaza, welcomed the return of customers on the first day that Gov. Kemp reopened several sectors of businesses across Georgia.Staff and clientele at both businesses were wearing protective masks and appeared to be following protocol mandated by health officials. It was a stark contrast from a barbershop located in the same plaza: empty, a closed sign posted on the door.
Kemp's executive order re-opening Georgia's economy has drawn both praise and criticism, particularly from African-American leaders who have expressed concern that black and brown people are being set up to contract and spread COVID-19. They want Kemp's initial executive order for residents to shelter in place to  remain in tact to slow the spread of the virus.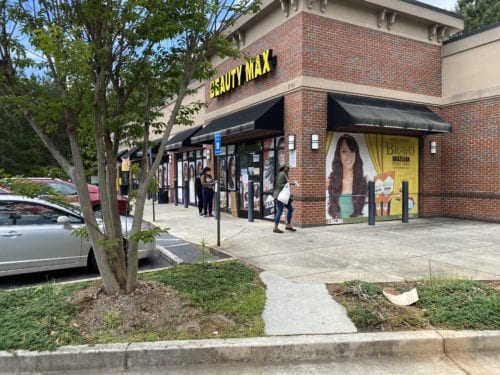 Georgia NAACP branches calied on community leaders and the public to defy Kemp's order, saying the overall death rate for COVID-19 for Georgia is 4 percent, while the death rate of black COVID patients is 9 percent.
According to the DeKalb County Board of Health, DeKalb is among seven Georgia counties with the highest number of COVID-19 cases. DeKalb, No. 2 behind Fulton County, has 1,563 confirmed cases and 30 deaths.