Testingfg of Ads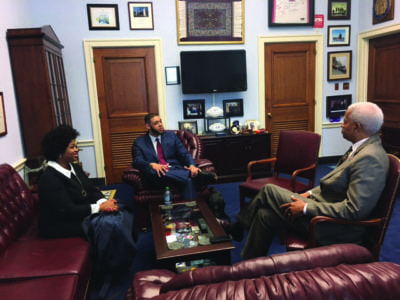 In honor of National Small Business Week, Congressman Hank Johnson invited Lithonia resident Jerry Myers to the nation's capitol on May 2 as his "Small Business of the Year" recipient for the 4th Congressional District.
National Small Business Week pays homage to small businesses and entrepreneurs across the nation who work every day to promote industry in their communities and create new jobs.
"Entrepreneurs have always been a cornerstone of our economy and the small businesses they oversee are vital for American prosperity," said Johnson. "It gives me great pleasure to recognize Jerry for all the hard work he does to contribute to the community."
Myers' In the Door career development and workforce training provides a wide-range of services to jobseekers of all ages. Myers has a passion for training people all over the state of Georgia and as of late, has done work with the City of Atlanta, DeKalb County School District and the American Association of Retired Persons.
The Greater Lithonia Chamber of Commerce nominated Myers for the award.
"Talking to the Congressman in his office about my start and why I do what I do was a real highlight for me. He was very interested in the career training workshops and some of our other services we provide," said Myers. "It really feels good to know that the legislative body wants to hear from us to see how we can be helped during the year. I am thankful to be a part of this process and honored to be selected."
Before starting his own business in 2014, Myers was the Employer Committee President for the Georgia Department of Labor for DeKalb and Rockdale counties. He is also an author and a professor of Marketing and Public Administration.
Myers said he started his small business to bridge the gap for people who need career development in their career and also the unemployed and underemployed who need to sharpen their skills to get them in the door for new opportunities.
Along with receiving the recognition from Johnson in his D.C. office, Myers participated in the Small Business Committee Democrats' Small Business Week Constituent Roundtable.
"The Greater Lithonia Chamber of Commerce recognizes the value that Mr. Myers' service brings to the community and that is why he received this recognition," said Johnson. "This was a great thing to do this week—to honor our small businesses and reaffirm our support for their success."