Testingfg of Ads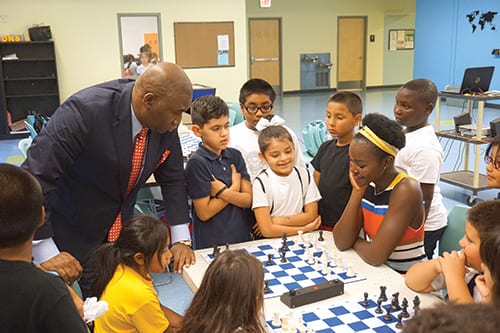 by Mackenzie N. Morgan
Dr. Antoinette G. Alvarado has called on a chess champion to share success strategies with students at the Alpha School in Rockdale County on April 30. 
Orrin "Checkmate" Hudson, founder of Be Someone Inc., in Stone Mountain, will lay the foundation for the screening of the film, "Queen of Katwe." Hudson, a chess champion and motivational speaker, served as a Disney consultant for the movie. Disney picked Hudson, who grew up poor and learned chess from a teacher, a move that forever changed his life. "Queen of Katwe" tells the story of a poor, 10-year-old Ugandan girl who changes the trajectory of her life and her family's lives by learning to play chess.
Hudson said Alvarado invited him to speak with students after learning of the consulting work he did for the Disney movie. Hudson said he is looking forward to being Alvarado's guest and sharing his message of making the right moves to success. Alvarado facilitates a girls' mentoring program at the Alpha School, the alternative school for Rockdale students who have been expelled from their home school.