Testingfg of Ads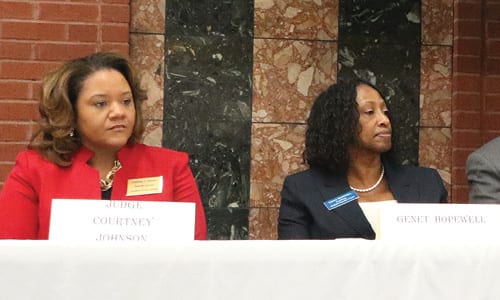 by Valerie J. Morgan
DeKalb Superior Court Judge Courtney Johnson is being challenged by long-time Attorney Genet Hopewell in the non-partisan election on May 22.
Johnson is seeking her third term. She was elected in 2010 and re-elected in 2014.  
Hopewell is a partner at Johnson Hopewell Coleman, where DeKalb Commissioner Mereda Davis Johnson is also a partner in the law firm. She has sat as a judge in DeKalb's recorder's, magistrate and juvenile courts.
The hotly contested race is one of several local races where DeKalb incumbents are facing challengers including:
DeKalb District 3 Commissioner
Larry Johnson 
DeKalb District 7 Commissioner Gregory Adams 
DeKalb School Board District 2
Board member Marshall Orson
State Sen. Fran Millar, District 40
State Sen. Steve Henson, District 41
State Sen. Gale Davenport,
District 44
State Sen. Tonya Peterson, District 43
State Sen. Gloria Butler, District 55
State Rep. Taylor Bennett, District 80
State Rep. Scott Holcomb, District 81
State Rep. Howard Mosby, District 83
State Rep. Michele Henson,
District 86
State Rep. Earnest "Coach" Williams, District 87
State Rep. Pam Stephenson,
District 90
State Rep. Karen Bennett, District 94
At a recent candidates' forum, the contest between Hopewell and Judge Johnson got heated.  
Hopewell criticized Judge Johnson for refusing to allow a public defender to take a break during a trial last June, forcing the woman to "pee" on herself. Hopewell said she would bring more fairness and compassion to the bench. The Georgia Judicial Qualifications Commission is investigating the incident.
 "There are some of my political opponents who are making allegations against me that are untrue and are false allegations. I have always treated everyone who has appeared before me with fairness, dignity and respect," said Judge Johnson, who said she hopes she will be judged on record and her experience.  
  The race to fill the seat of retiring Superior Court Judge Dan Coursey has lots of choices. Six candidates are vying for the seat: Tunde Akinyele, Gina Bernard, Roderick Bridges, Kirby Clements Jr., Latisha Dear-Jackson and Nicholas Smith. If no candidate gets a majority of the vote, the runoff will be held on July 24.
DeKalb County Sample Ballot: