Testingfg of Ads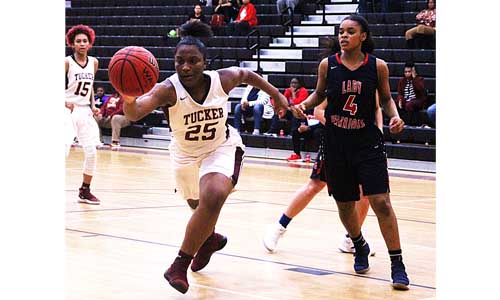 By Mark Brock
DCSD Athletics
The No. 6 ranked Tucker Lady Tigers held off Grovetown 42-37 to be one of five DeKalb County basketball teams to advance to the Sweet 16 of their respective state tournaments on Friday.
Jasani Buchanan (2-2), Kerrigan Johnson (4-4) and Kierra Guthrie (1-2) combined to hit seven of eight free throws in the final 1:16 of the game to seal Tucker's trip to the Class 6A girls' Sweet 16.
Grovetown had trimmed a 28-19 lead by Tucker to one (32-31) behind two three-pointers by Marissah Tate and a layup by Tamiah Holmes with 3:43 to play.
Amariah Stanard responded with a drive to the basket for a layup and Johnson hit a free throw to make it 35-31 with 2:28 to play in the game.
Buchanan was fouled on a shot at the baseline and hit both free throws to increase the lead to 37-32 with 1:16 to play.
Aniyah Jones hit a free throw and Ayana Collins who rebounded jones missed was fouled and hit a pair of free throws with 53.9 seconds to play to cut the lead to 37-35.
Johnson was fouled on Tucker's possession and calmly hit two free throws to push the lead back out to 39-35. Tucker's defense got a turnover and Johnson was fouled again. The guard hit two more free throws to make it 41-35 with 20.1 seconds to play.
Grovetown missed four of six free throws in the final 11.5 seconds and Guthrie hit one of two for the final of 42-37.
Tucker trailed 11-7 after the first quarter when Jones hit a basket with 20 seconds left. Grovetown hit two of three free throws to open the second quarter up 13-7.
The Tigers (20-9) did not allow any more points in the first half and Buchanan hit for six points in a 9-0 Tucker run to take a 16-13 lead into the half.
Johnson's three with 20 seconds left in the third quarter ended a 10-0 run for Tucker as the Tigers took a 28-19 lead into the final quarter of play.
Buchanan hit for a game-high 13 points and Johnson finished with 11 in the victory. Grovetown (15-13) was led by Tate who hit for 10 points and grabbed 7 rebounds.
Tucker travels to Bradwell Institute (18-9) for a 6:00 pm Sweet 16 game on Wednesday (Feb. 21).
In other Class 6A action, the Stephenson Lady Jaguars (18-11) knocked off Region 3 No. 1 seed Heritage (20-6) 54-49 to advance to the Sweet 16 round on the road to Douglas to take on Coffee (17-9) next Wednesday. The Martin Luther King Jr. Lady Lions (8-21) had their amazing run to the state playoffs end with a 63-39 loss at Greenbrier (19-9).
Class 3A Girls
The Cedar Grove Lady Saints (13-6) won a 40-39 thriller on the road at Sonoraville (18-9) to advance to the Sweet 16. Cedar Grove goes on the road to Carnesville to take on No. 2 ranked Franklin County (28-0), a 56-35 winner over Dawson County.
Stone Mountain's return to the state playoffs ended with a 61-34 loss to No. 9 ranked Haralson County (26-2). The Lady Pirates end the season 10-14.
Class 5A Girls
Two of DeKalb's Class 5A girls' teams advanced to the Sweet 16 while two others fell in one-point heartbreakers to end their seasons.
Southwest DeKalb (17-12) rolled past Riverwood (10-18) 60-23 at home to move forward. The Lady Panthers will host No. 8 ranked Carrollton (23-6), a 50-47 winner over Cedar Shoals, next Wednesday.
The No. 7 ranked Arabia Mountain Lady Rams (21-2) rolled past cross-county rival Decatur (18-9) 67-34 to move into the Sweet 16. Arabia Mountain will travel to No. 3 ranked Villa Rica (24-1) in a Top 10 battle next Wednesday.
Miller Grove (15-12) dropped a tough 52-51 decision on the road at Maynard Jackson (18-6) to end its season and Chamblee also lost a hard fought 49-48 game on the road at Lithia Springs (18-9).
Class 5A Boys
The No. 6 ranked Columbia Eagles (19-10) could not get past No. 10 Maynard Jackson (25-2) as the host team took a 57-49 win.
DCSD STATE TOURNAMENT RESULTS
Thursday, Feb. 15
Class 3A Boys
Towers (18-9) 81, Bremen (12-17) 59
Friday, Feb. 16
Class 3A Girls
Cedar Grove (13-6) 40, Sonoraville (18-9) 39
Haralson Co. (26-2) 61, Stone Mountain (10-14) 34
Class 5A Girls
Arabia Mountain (21-2) 67, Decatur (18-9) 34
SW DeKalb (17-12) 60, Riverwood (10-18) 23
Jackson-Atl (18-6) 52, Miller Grove (15-12) 51
Lithia Springs (18-9) 49, Chamblee (14-13) 48
Class 5A Boys
Jackson-Atl (25-2) 57, Columbia (19-10) 49
Class 6A Girls
Tucker (20-9) 42, Grovetown (15-13) 37
Stephenson (18-11) 54, Heritage-Conyers (20-6) 49
Greenbrier (19-9) 63, M.L. King Jr. (8-21) 39
DCSD STATE TOURNAMENT SCHEDULE
Saturday, Feb. 17 (First Round)
Class 3A Boys
Ringgold (19-7) at Cedar Grove (21-6), 6:00 pm
Redan (13-13) at Calhoun (13-13), 6:00 pm
Class 4A Boys
Druid Hills (12-14) at Baldwin (21-6) 6:30 pm
Class 5A Boys
North Springs (13-14) at SW DeKalb (17-11), 3:00 pm
Banneker (14-9) at Lithonia (21-6), 5:00 pm
Miller Grove (19-7) at Riverwood (19-8), 4:00 pm
Class 6A Boys
Tucker (17-11) at Grovetown (12-12), 7:00 pm
Lakeside-Evans (13-12) at Stephenson (21-5), 7:00 pm
Wednesday, Feb. 21 (Second Round)
Class 3A Girls
Cedar Grove (13-6) at Franklin Co. (28-0), TBA
Class 5A Girls
Arabia Mountain (21-2) at Villa Rica (24-1), TBA
Carrollton (23-6) at Southwest DeKalb (17-12), TBA
Class 6A Girls
Stephenson (18-11) vs. Coffee (17-9), TBA
Tucker (20-9) at Bradwell Institute (18-9), TBA