Testingfg of Ads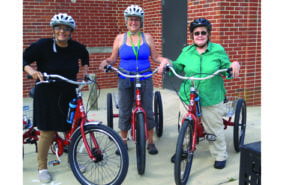 The City of Decatur is launching its Silver Spokes program this month to encourage senior citizens to exercise by riding a tricycle.
The city applied for and received a $1,000 mini grant through the Georgia Recreation and Parks Association to purchase three adult tricycles for the new pilot program.
"I had read about tricycle programs for seniors in Austin (Texas) and Portland (Oregon) and thought it would be great to start a pilot program here for our seniors," said Tracie Sanchez, adult programs supervisor , Decatur Active Living. "We are designated as a bike-friendly city plus we have three solid miles of dedicated trails right here in the city through PATH."
Sanchez said the city kicked off the program on with a training session, which included one woman who had never ridden a bike before and another who was eager to overcome the fear of losing her balance.
Sanchez said the city plans to initially operate the program in June on Tuesdays and Thursdays, 9 to 10 a.m., and then in the fall when the weather is cooler.
Seniors who are interested in using one of the tricycles may sign up with Sanchez at 678-553-6559. The trikes will be available at the Ebster Gym courtyard, 105 Electric Ave.
"We have three bikes and three helmets and participants can take turns riding them in the plaza," said Sanchez.
Participants should wear closed-toes shoes, comfortable pants or leggings and bring a water bottle.