Testingfg of Ads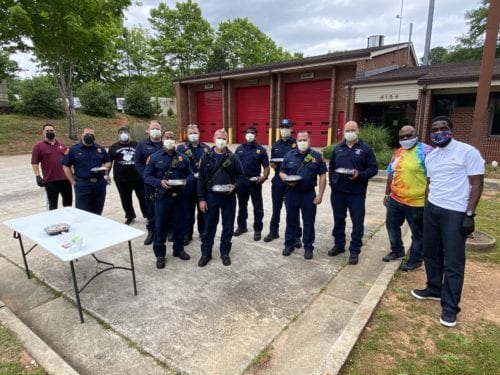 Video and photos by Glenn L. Morgan/On Common Ground News
Showing Kindness
Pictured are firefighters at Station 24, 4154 Redan Road, Stone Mountain.
Transforming Faith Church delivers free lunches to DeKalb firefighters during COVID-19 pandemic
STONE MOUNTAIN—DeKalb County's former CEO Lee May, pastor of Transforming Faith Church, was on the frontlines today—delivering lunches to firefighters at four stations
May made stops at Stations 4, 16, 20 and 24, setting up a table where he and volunteers passed out chef-prepared lunches. Firefighters were able to choose from fish, chicken and steak meals.
May said he wanted to serve those who are serving the community during the COVID-19 pandemic.
"In the age of COVID-19, there is no social distancing for our first responders," said May. "We are pleased to partner with a local Atlanta Food Truck, The Blaxican, who has also been adversely affected by this pandemic, to help serve our first responders during this international crisis."
Station 24 – 11:45am
4154 Redan Road
Stone Mountain, GA 30083
Station 20 – 12:15
2919 Warren Road
Decatur, GA 30034
Station 16 – 12:45
2750 Pleasantwood Dr.
Decatur GA 30034
Station 4 – 1:15
4540 Flakes Mill Rd
Ellenwood, GA 30294
gmorTransforming Faith Church's worship services are streamed on Sundays at 10 a.m.: www.TransformingFaithChurch.com/Live.