Testingfg of Ads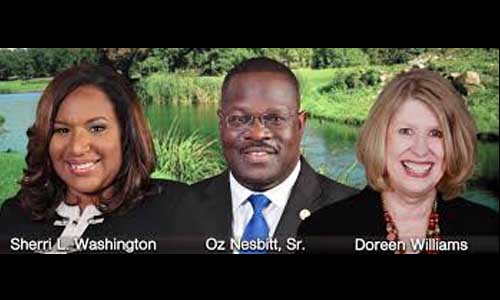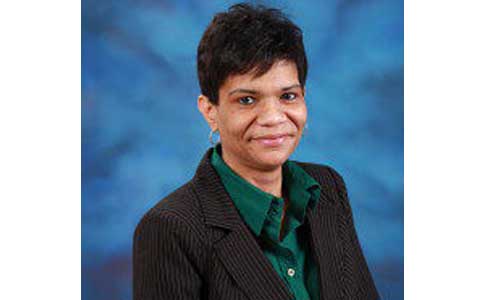 Rockdale County Finance Director Roselyn Miller
Rockdale County Finance Director Roselyn Miller has been relieved of her duties as of Sept. 4, becoming the fourth director dismissed within a three-month period.
Chief of Staff Corey Hambrick will leave on Dec. 31, becoming the fifth departure, Board of Commissioners Chairman Oz Nesbitt confirmed during an interview with On Common Ground News on Sept. 19.       
Nesbitt said that while he called for Hambrick's departure and three others, he did not support firing Miller, whom he said has been a dedicated, 20-year veteran of the county, serving as finance director since 2009. He said the commissioners and Miller could not come reach an agreement on severance compensation, and they don't have to since Georgia is "an employment at will state," meaning employees can be terminated for any reason so long as that reason is not illegal such as discrimination.
Nesbitt announced the departures of Planning and Development Director KC Krzic; Technology Services Director Al Yelverton; and Deputy Director of Technology Services Maurice Ficklin in July. Nesbitt, who, as chairman oversees Rockdale's day-to-day operations, said a re-organization was needed to improve operations and put the county on track for 2021.
Post 1 Commissioner Sherri L. Washington and Post 2 Commissioner Dr. Doreen Williams cited a "lack of confidence in the handling of the county's finance department" in dismissing Miller.
"We don't suspect that there is anything criminal that has happened. We have put in place a four point plan to look at how we can strengthen our finance department. The plan includes reviewing policies and procedures in the Finance Department," said Commissioner Williams.
The Board of Commissioners (BOC) is slated to make Miller's termination official by way of a resolution at its regular meeting on Sept. 22, Williams said. The meeting will be held at 10 a.m. at the Rockdale Auditorium and via ZOOM. The meeting also will be  streamed live on Rockdale County's Facebook page.
Nesbitt said he does not plan to approve the resolution finalizing Miller's dismissal. He praised Miller for her  20 years of service, including serving as finance director since 2009.
"I was not in favor of it (Miler's firing), but it was a 2-1 decision. I was outvoted. Commissioners Washington and Williams said they wanted to move in another direction and they did," said Nesbitt. "Director Miller did nothing illegal. She did nothing unethical. She was a highly dedicated employee. The county received numerous awards and accolades under her leadership. Prior to July, when the two commissioners mentioned there were some communication issues between them, neither had said anything negative about her to me. She had nothing negative in her employee file."
Nesbitt said the finance director, county attorney and the chief of staff all report to the two commissioners and the BOC chairman. With two votes, either of the three appointees may be dismissed, Nesbitt said, as was the case with the finance director.
Nesbitt acknowledged, however, that the decision concerning the departure of the chief of staff was not as "cut and dry" as the dismissal of the finance director.
Nesbitt said he set up the Chief of Staff position when he became Chairman four years ago, allowing the two commissioners to share in overseeing the position, including giving them firing power.
Nesbitt said he called for Hambrick's dismissal because he decided he no longer needed a chief of staff. Nesbitt declined to elaborate what prompted the fallout. However, the two commissioners decided they wanted to allow Hambrick to remain until the end of the year. Williams said she wanted to ensure that Hambrick would be tenured for a county pension.
Nesbitt said a compromise allowed Hambrick to remain until the end of the year.
"Technically, on paper, Corey Hambrick is still chief of staff. He is still receiving a paycheck," said Nesbitt. "However, as far as serving as it relates to the Office of the Chairman, he has been relieved of all of his duties. Corey Hambrick has absolutely no access to county buildings or facilities. He no longer has a county vehicle. The only thing that he has is a county laptop and a county cell phone. He is now working exclusively as a project coordinator for the two commissioners until Dec. 31. I wish him well. There are no hard feelings. "
Nesbitt said he does not plan to hire a new chief of staff but he may use the slot for a different position.
Meanwhile, Deputy Finance Director William Vaughn will lead the Finance Department as the county conducts a search for a director, officials said.
Nesbitt appointed Jennifer Rutledge, who is County Clerk and Director of Legislative Affairs, to oversee planning and development until a replacement is named. Director of Recreation and Maintenance Sue Sanders  has been appointed to serve as chief liaison for technology services until replacements in that department have been named.