Testingfg of Ads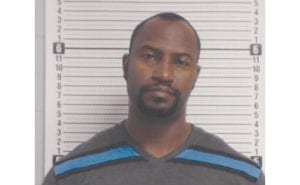 ATLANTA – Avery Frazier has been sentenced to 20 years in federal prison for a series of violent armed robberies of title loan stores in Rockdale and Cobb Counties.
Frazier, 49, of Douglasville, robbed 34 stores between 2013 and 2014 to support a gambling habit at a North Carolina casino, authorities said. He was caught after a Conyers Police Department officer captured his license plate as he fled the scene of a robbery at the Title Bucks store in Conyers.
"Frazier repeatedly traumatized hard working people at gunpoint," said U.S. Attorney John Horn. "He sowed fear throughout our communities, robbing multiple title loan stores over time.  Thankfully, a quick police response helped identify his vehicle and, ultimately, led to his arrest."
"The FBI is proud of the role that it played in bringing Mr. Frazier forward for federal prosecution. The lengthy prison sentence in this case is reflective of the serious nature of the repeated violent robberies committed and the emotional victimization left in his wake," said J. Britt Johnson, Special Agent in Charge, FBI Atlanta Field Office.

"Frazier's actions during these robberies were terrifying to his victims," stated City of Conyers Chief of Police Gene Wilson.  "We appreciate how the FBI and the US Attorney's Office took this case to its conclusion and this sentence will help keep the citizens safe for a long time to come.  Because this case was prosecuted in federal court, Frazier got the sentence he deserved."
Horn said between 2013 and 2014, 34 robberies of title loan stores occurred in different areas of the metropolitan Atlanta area. In each, the robber would wear a mask, enter a title loan store brandishing a firearm at employees, and demand the business's cash. He would then force employees to move to the rear of the store. Eventually, he started forcing the employees to remain in a bathroom or storage room until he left. The robber also threatened store employees by telling them at gunpoint that they must follow his directions or risk never seeing their families again.
In early 2014, local law enforcement officers from several metro Atlanta police departments formed a task force and began working with the FBI to identify the robber.
On Oct. 30, 2014, a local Conyers Police Department officer, who was responding to a call for assistance at a different location, captured Frazier's license plate as Frazier fled the scene of a robbery at the Title Bucks store in Conyers. After further investigation and information sharing among the FBI and local police departments, Frazier was identified as the suspect in the series of armed robberies. Conyers Police Department officers obtained a warrant for his arrest, and Frazier was arrested on Nov. 5, 2014.
The investigation revealed that during the time frame of the robberies, Frazier was a serious gambler at a casino in North Carolina, and he was making purchases of tens of thousands of dollars of casino chips in the weeks surrounding the robberies.
Frazier was sentenced to 20 years in prison to be followed by three years of supervised release, and restitution of $14,218. Assistant United States Attorneys Mary L. Webb and Angela Marie Munson prosecuted the case.