Testingfg of Ads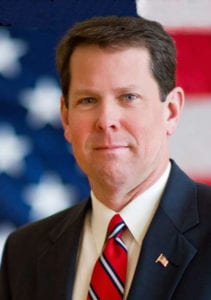 Responding to a lawsuit filed in federal court this month, Georgia Secretary of State Brian Kemp said that he is changing a policy that prevented some residents from registering to vote.
The Associated Press reported tens of thousands of Georgians' applications were rejected because personal information on the application did not match either the driver's license or Social security records. The policy had been in place since 2010.
A letter filed on Sept. 21 by attorneys representing Kemp said the office has stopped preventing people from registering to vote if their names don't exactly match other government databases and won't resume the practice without a court decision. The letter to U.S. District Court Senior Judge William O'Kelley, who is hearing the case, also said those who were rejected using that process in 2015 can cast regular ballots in November with appropriate identification.
Under the policy, a mismatch triggered a letter notifying the applicant and gave the person 40 days to respond or their application was automatically cancelled.
The lawsuit says, however, that records may not match for numerous reasons including typos made by elections officials during the voter application process.
The lawsuit, which challenges that Kemp's office violated the Voting Rights Act, was filed Sept. 14 by the Lawyers' Committee for Civil Rights Under Law, the Georgia Conference of the National Association for the Advancement of Colored People, Asian Americans Advancing Justice-Atlanta and the Georgia Coalition for the People's Agenda.
Meanwhile, the voter registration deadline for the Nov. 8 election is Oct. 11. Early voting starts Oct. 17 and ends Nov. 4.