Testingfg of Ads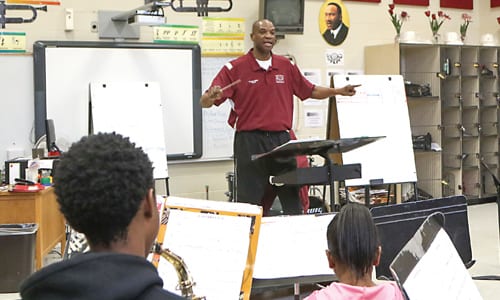 Salem Middle School's Mighty Lions Symphonic Band will make history in March by becoming the first middle school band from the city of Stonecrest to perform at Carnegie Hall in New York City.
The band is seeking to raise $80,000 to help pay for transportation, lodging, concert attire, and meals for the five-day trip for nearly 60 students and a dozen chaperones.
Alicia Scurry, who is the parent of an eighth-grade clarinet player at Salem Middle, said she is ecstatic about the opportunity for the band to play at Carnegie Hall.
"I'm extremely proud of all of them. They are all my babies. When these kids get in music mode, they will put you in awe," said Scurry, who also serves as president of Salem Middle School's Band Booster Association.
Scurry, a native of New York, said she contacted Carnegie Hall to inquire about opportunities for gifted young musicians after the band received a standing ovation at a spring concert last year.
"This band has always been instructed to play at a level, which is higher than expected for a middle or even high school band, and they have been rewarded with this invitation to perform at Carnegie," said Sandra Harris, a band parent and the band booster's volunteer event coordinator.
Scurry said the students are excited about performing at the historic venue where legendary musicians Billie Holliday, Nina Simone and Duke Ellington once performed.
"They screamed when they were told that they were going to be performing at Carnegie Hall. They could not believe that they were invited to play where musical legends have played," said Scurry.
The band, comprised of students in the sixth through eighth grades under the leadership of 20-year veteran director, H. T. Monte, will play advance music pieces including Boléro and Earth Dance, both college-level pieces without any sheet music.
"He (Monte) is a mastermind. He turns our kids into some wonderful, beautiful musicians," said Scurry, who said the students are practicing around the clock.
The symphonic band has a distinguished history: The Mighty Lions Band received a "Superior" ratings at the 36th Annual Carowinds Festival of Music in Charlotte NC, the Atlanta Metro Area Spring Music Festival, and the District IV Large Group Festival.
Members of the symphonic band also participate with their local high school band.  This has allowed the group of symphonic band students to participate at collegiate and professional events such as the 2017 Tournament of Roses Parade in Pasadena, CA, Atlanta Falcons NFL games, Ohio State University's Buckeye Invitational, and Tennessee State and Howard Universities' homecoming activities. On a yearly basis, they participate in the Honor's Jazz Workshop, the African-American Heritage Concert, the GMEA District 4 Honors Band, and the MLK Band Extravaganza.
Band director Monte also is the Associate Band Director for the MLK Marching Lions in Lithonia and the band instructor for the Atlanta Falcons' drumline.
"Mr. Monte continues to push his students to do better and challenges them to play advanced pieces of music to enhance their musicianship while creating future opportunities in the process," said band booster volunteer Joi Goolsby.
Donations to assist the band to go to Carnegie Hall can be made at:  http://www.gofundme.com/MightyLionsBandAtCarnegieHall
PayPal at https://www.paypal.me/SalemMightyLionsBand
Salem Middle Band Boosters, P.O. Box 2086, Lithonia, GA 30058.