Testingfg of Ads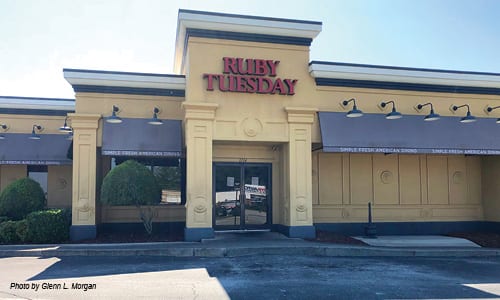 By Valerie J. Morgan 
Ruby Tuesday has closed its Conyers location at 1714 Highway 138 N.E. According to a sign posted on the door, the restaurant closed on July 23.     
Efforts to contact the company's media relations by e-mail and the restaurant by telephone were unsuccessful. The restaurant's listing on Google has been changed to "permanently closed."
The shutdown of the Conyers location follows declining sales that have plagued the chain for several years. Officials announced in August 2016 that it planned to close 95 underperforming locations. At that time, the company had not identified which of its 724 restaurants nationwide would be closing, but company officials said the decision was made after a comprehensive review of the corporate-owned restaurants' portfolio. The chain is known for its American cuisine, which includes steak, burgers, seafood and chicken dishes, and its salad bar.
Fred Boscarino, president of the Conyers-Rockdale Chamber of Commerce, said he was surprised to learn the Conyers location had closed.
"They've been there for years," said Boscarino.
In fact, the Conyers location opened in 1992, according to the City of Conyers business licensing division.
 The eatery's banquet room had been a popular place for special events and community meetings. Josie Dean, founder of the Rockdale Think Tank, said she had to find another place to host her group's monthly meeting, scheduled on July 28. 
"We've been there for three years. It really caught us by surprise that they were closing," said Dean.
According to news reports, the restaurant chain had a loss of $50.7 million on revenues of $1.1 billion for fiscal year 2016, which ended in May.
NRD Capital, an Atlanta-based equity firm that specializes in franchise business investments, acquired Ruby Tuesday in December 2017.  There were 596 Ruby Tuesday restaurants in 41 states, 14 foreign countries and Guam as of Dec. 1, according to news reports. Courthouse millage rate.  
The Rockdale Think Tank group will meet on Saturday, July 28, noon to 2 p.m., at the Suntrust Bank building, 1530 Highway 138 N.E., Conyers.