Testingfg of Ads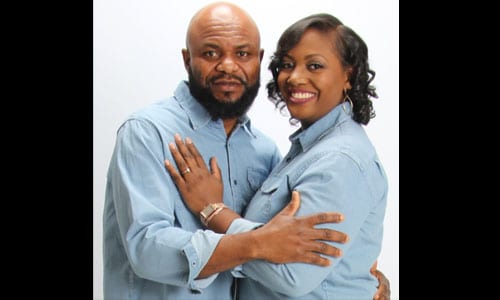 It is with great honor and excitement that Anthony J. Royal, Sr. and Leslie E. Royal announce the impending nuptials of their daughter Antasha Jenise Royal to Julius Ibiyi Wilson, son of Mrs. Mary Iyam Wilson and the late Mr. Ubi Ogban Wilson. The wedding will take place in early spring at beautiful Georgia Palms & Gardens in Powder Springs, Georgia.
How they met: First comes car trouble, then comes marriage… They met when Julius worked on Antasha's car. Anyone who knows her knows that she does not take care of cars. (lol) He asked for her number. He was cute and respectful (and handy 😉) so she gave in. He says she played too hard to get for almost a year before they got serious. They have since been inseparable.
The proposal – 6.06.19: Their friends, Joel and Lisa, hosted a cookout at their home. Little did Antasha know that this was her surprise engagement party! When Julius gave her a little box of chocolates and got down on one knee, with everyone surrounding them (including her family who had been hiding in the house), she knew she had been duped. They had been planning this for weeks and Antasha knew nothing of it. He opened her mind and her heart, and she happily said YES!!
Antasha and her parents have resided in metro Atlanta since her birth while Julius and his parents hail from Cross River State, Nigeria. She is the granddaughter of Mrs. Lizzie Mae Dukes Guess of Atlanta and Mrs. Bernita Marie Sanders Royal of Savannah, Georgia. Family and friends will come from far and near to attendthe semi-formal wedding ceremony. The couple will reside in Atlanta.