Testingfg of Ads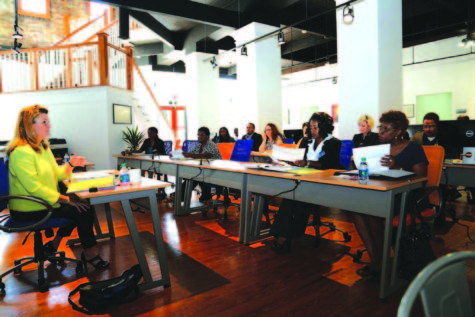 Congressman Hank Johnson (GA-04) continued his small business initiative on July 19 with another informational roundtable, which was held at the (e) station in Olde Town Conyers.
The meeting was the second installment of the Advancement of the Small Business Community initiative, which launched in June with DeKalb County small business owners at Georgia Piedmont Technical College in Clarkston.
The roundtable in Conyers, conducted by Betty Mason from the Georgia Department of Transportation (GDOT) and Terri Denison of the Small Business Administration (SBA), offered information on federal and state resources available to assist small businesses.
During the meeting, participants had the opportunity to network among each other, and talk one-on-one with both, Mason and Denison, about what it takes to overcome hurdles that often come with competing for government contracts or gaining access to capital through the SBA.
The next roundtable will be held on Wednesday, Aug. 9 in Gwinnett County. The roundtables will culminate in September with a district-wide "Think Tank." This event will create an environment where small businesses from the Fourth Congressional District, which includes portions of DeKalb, Gwinnett, Rockdale and Newton counties can benefit from the pool of information and opportunities that the federal government affords its constituents. It will feature both panel discussions and interactive individual participation exercises geared towards addressing the specific needs of each small business owner. The event will be held on Sept. 18 at Georgia Piedmont Technical College, 495 North Indian Creek Drive, Clarkston.
"The importance of the small business community in today's economy is indisputable," Johnson said. "Small businesses are a vital part of today's economy and account for half of the private workforce's employment. The purpose of this initiative is to strengthen our small businesses by increasing awareness and support through face-to-face meetings with the experts that can help us do just that."
The U.S. Department of Veteran Affairs, Georgia Department of Transportation (GDOT), Georgia Department of Agriculture, the Georgia Department of Economic Development, Small Business Administration (SBA) and the U.S. Department of Labor are among the entities that will be a part of the September initiative.
Educators, community and economic development specialists, local leaders and other members of our communities will be on hand at the upcoming "Think Tank" event to show small businesses the proper way to gain access to capital and the proper channels for contracting with the Federal government. The event will also provide the opportunity for business leaders to learn from each other's experiences.