Testingfg of Ads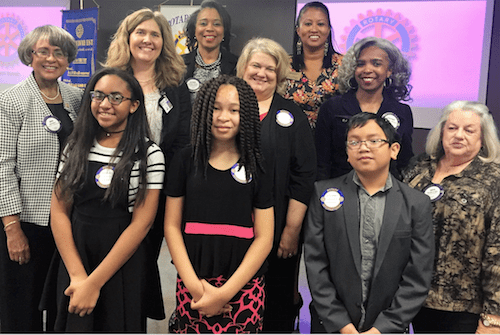 The Rotary Club of Conyers heard the winning speeches delivered by the first place winners of the annual Rockdale County Middle School Oratorical Competition held Nov. 5. This year, the winners for the sixth, seventh and eighth grades are all from Davis Middle School. Sixth grade speaker JR Insular spoke on The Right to Trial by Jury. Seventh grader Morgan Gill addressed "The Role of the U.S. in the World." The eighth grade speaker, Hayley Sanders, made a case for "Why We Need Informed Voters."
All three have received cash prizes of $500 each and state they have started their college savings funds.
The Rotary Club also recognized the contributions of Lisa Tompkins and Stacy Arick, the two teachers who coached the students. Each received a $75 Class Room Grant for their discretionary use in their class rooms.
The Rockdale County Middle School Oratorical Competition is an annual academic enrichment program produced and funded by the collaborative efforts of Rockdale County Public Schools, Clerk of Courts Ruth Wilson, Lexicon Technologies, Evans Tool and Die, Snapping Shoals EMC and the Rotary Club of Conyers.