Testingfg of Ads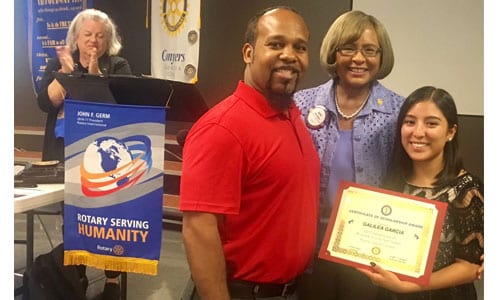 Rockdale County High School senior Galilea Garcia has been named the 2017 Interact Scholarship Winner. Garcia, who serves as president of the Rockdale County High School (RCHS) Interact Club, earned the $1,000 scholarship from the Rotary Club of Conyers.
"I'm really excited. It's awesome to see how much your community has your back. It feels really good to be recognized for something you love to do when you didn't expect it at all," said Garcia.
Rotary Club of Conyers Youth Services Chair Ruth Wilson describes Garcia, who plans to become a Rotarian after college and mentor other minority girls pursuing STEM (Science, Technology Engineering and Math) careers, as a humble and sweet person with fire in her belly.
"She will be the first person in her family to attend college and will inspire all those she meets. We are proud to recognize such a role model for young people," said Wilson.
Interact is Rotary International's service club for young people ages 12 to 18. The RCHS club is sponsored by the school's AP US History teacher Kenneth Tucker.
"I'm so proud of her. She is an all-around student who puts a premium, not only on her education, but also on community service," said Tucker. "Community service is integral to the community at large. Giving kids an opportunity to see how they can impact our community is why I continue to sponsor the club."
Garcia, who earned the scholarship by writing an essay describing her extensive volunteer and community service involvement, has a passion for service to others and plans to continue even after graduation from UGA as an Environmental Engineer with an MBA Dual Degree.