Testingfg of Ads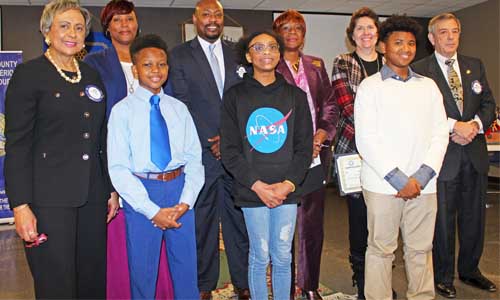 Left to right: Rockdale County Clerk of Courts and Middle School Oratorical founder Ruth Wilson; Memorial Middle School teacher DaMeka Whitehead; first place winner for seventh grade Joshua Jamison of MMS; RCPS Superintendent  Terry Oatts; first place winner for eighth grade Laila Wood of Edwards Middle School; EMS teacher Hazel Lammie; Gen. Ray Davis Middle School teacher Lisa Tompkins; first place winner for sixth grade Barkley Dowdy; and Conyers Rotary President Mike Lassiter.
The Rotary Club of Conyers honored the first place winners of the 2018 Rockdale County Middle School Oratorical Competition at the club's luncheon on Jan. 31.  The luncheon was held at the Conyers First United Methodist Church 921 North Main St. N.W., in the second-floor assembly room.
The Oratorical Competition was developed in cooperation with Rockdale County Public Schools (RCPS) by the Clerk Of Courts Office to provide enrichment opportunities, support, recognition and rewards to middle school students. The Competition is open to RCPS 6th – 8th grade students selected by RCPS.
The district-wide contest is sponsored each year by Lexicon Technologies, Snapping Shoals EMC, Evans Tool and Die, The Rotary Club of Conyers and the Rockdale Clerk of Courts. The first, second and third Place winners receive cash prizes, which they are encouraged to use for college savings.
The 2018 Oratorical Competition winners who were awarded $500 cash prizes are:
Sixth Grade – Barkley Dowdy, Davis MS
TOPIC: Should Americans be required to vote?
Seventh Grade – Joshua Jamison, Memorial MS
TOPIC: Democracy Depends Upon Good Citizenship
Eighth Grade – Laila Wood, Edwards MS
TOPIC: A Big Problem in local government is…