Testingfg of Ads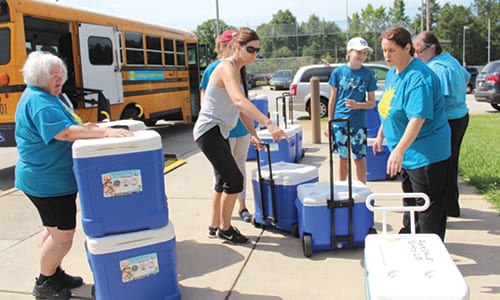 This summer, Rockdale County Public Schools (RCPS) and Bread of Life Development (BOLD) Ministries are partnering to ensure Rockdale's children receive healthy, and delicious meals throughout the summer for the fifth year. The summer program also is providing books for students to enjoy from the RCPS Summer Reading List.   
 The free program, which operates Monday through Friday, delivers bagged lunches and books via school bus to locations in several communities throughout Rockdale. The program serves students up to age 18. Meals must be eaten on the buses, which are air-conditioned. Students may select books to borrow and take home with them
In addition to delivering bagged lunches, RCPS is serving lunch at Salem High School (3351 Underwood Road) and Heritage High School (2400 Granade Road). 
For updated delivery times or more information, contact 770-860-4223 or go to www.rockdaleschools.org/summermeals.